Boston Stroke Lawyers
Questions about the diagnosis and treatment of your stroke?
New England's top medical malpractice law firm will review your case for free in Massachusetts, New Hampshire and Rhode Island.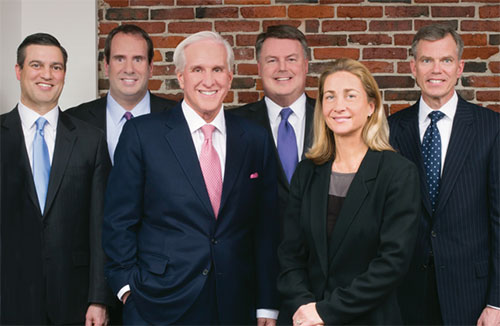 Read below about medical errors in diagnosing and treating stroke.
When Stroke Symptoms Are Ignored by Healthcare Professionals
Symptoms of stroke and transient ischemic attack (TIA) are often overlooked or misdiagnosed by doctors and hospital emergency room personnel. Unfortunately, this failure to diagnose or a delay in the diagnosis of a stroke can have devastating consequences as to the extent of a patient's injuries and ability to fully recover.
A study from Johns Hopkins University shows emergency department physicians are 30% more likely to overlook signs of stroke in women and minorities. Additionally, according to the Centers for Disease Control and Prevention, strokes are increasing dramatically among people in their 30s and 40s.
Tragically, patients who suffer a stroke often have previously visited an emergency room complaining of headaches and dizziness, and were either misdiagnosed, discharged without accurate diagnosis, or were sent home with no diagnosis.
Types of Stroke and Causes
There are three types of stroke:
Ischemic stroke - According to the Center for Disease Control, 87% of all strokes are ischemic strokes — when bloodflow through the artery that supplies oxygen-rich blood to the brain becomes blocked. Blood clots often cause these blockages.
Hemorrhagic stroke - caused by an artery in the brain that leaks blood or ruptures. The leaked blood puts too much pressure on brain cells, which damages them. High blood pressure and aneurysms—balloon-like bulges in an artery that can stretch and burst—are examples of conditions that can cause a hemorrhagic stroke.
Transient ischemic attack (TIA) - also known as a "mini-stroke" is different from the major types of stroke because blood flow to the brain is blocked for only a short time — about 5 minutes or less. However, a TIA is a warning sign of a future stroke. It is a medical emergency, just like a major stroke, and requires immediate care.
According to the CDC, blood clots often cause TIAs, and more than 30% of people who have a TIA and don't get treatment will have a major stroke within one year.
Stroke Symptoms
Medicinenet.com lists 14 symptoms of stroke and they are as follows:
Weakness or paralysis of any part of the body
Numbness or "pins and needles" sensation anywhere in body
Trouble walking or loss of balance and coordination
Vision changes, blurred vision, eyesight trouble in one or both eyes
Dizziness
Severe headache that usually is unlike headaches in the past
Confusion
Inability to speak, slurred speech, or inability to understand speech
Loss of sensation in any part of the body
Memory loss
Behavioral changes
Muscle stiffness
Difficulty swallowing
Involuntary eye movements
Get The Answers You Deserve
If you presented to medical professionals with any of these symptoms, and stroke was not diagnosed or treated, or you were sent home with no diagnosis, you may have not received proper medical care.
How To Determine Medical Malpractice in Stroke
When stroke is not properly diagnosed or treated it can be due to medical negligence by the treating physician or other attending medical personnel, or related to misinterpreted tests, medication errors, communication errors, hospital staffing, among other errors.
In such cases, filing a medical malpractice lawsuit allows a patient or patient's family to seek compensation for their injuries, medical expenses, lost wages, and pain and suffering.
If you are wondering, "Can I sue a doctor or hospital for stroke?" we can help answer your questions. Deciding whether events involved in the diagnosis and treatment of stroke constitute medical malpractice should only be decided by attorneys experienced in stroke lawsuits. If you have any questions about whether you or a loved one received appropriate medical care related to a stroke, please do not hesitate to have your case reviewed by one of our stroke attorneys.
Our medical malpractice attorneys are licensed and practicing in Massachusetts, New Hampshire and Rhode Island.
Stroke Verdicts and Settlements
Below are some of Lubin & Meyer's verdicts and settlements related to stroke:
View more stroke verdicts and settlements.
Call for a Free Case Review
There is no cost for you to consult with Lubin & Meyer, New England's top medical malpractice law firm. Contact us now to schedule a free review of circumstances surrounding your stroke diagnosis and medical care by a Lubin & Meyer stroke lawyer.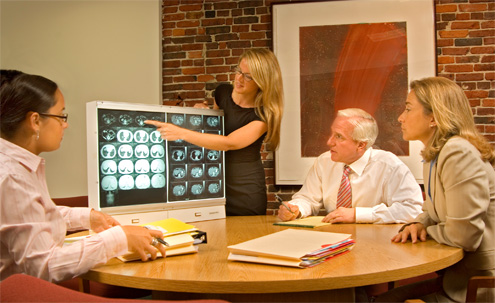 Free Case Evaluation: Our medical malpractice lawyers and nurses are here to help you. Call (617) 720-4447. Strictly confidential. No obligation.
All questions are welcome and are confidential
Our attorneys are licensed and practicing in Massachusetts, New Hampshire and Rhode Island, and can file a stroke lawsuit on your behalf.
Learn more about how we are Making A Difference.
Learn more about our Team Approach.