New England's Best Lawyers® Features Perennial Powerhouse Lubin & Meyer on Cover of Special Supplement in The Boston Globe
Described as the region's "go-to" medical malpractice and personal injury law firm, leading the fight to improve healthcare
Best Lawyers® / Boston Globe - April 2023
BOSTON, MA — Five plaintiff's attorneys at Lubin & Meyer PC again have been selected for inclusion in New England's Best Lawyers® 2023 Edition, the annual peer review guide to the top lawyers in the region.
Listed below are the attorneys selected, total years in the guide, and the practice area or areas in which they are recognized.
Lubin & Meyer attorneys appear on the cover of the 2023 edition of Best Lawyers New England, featured in The Boston Globe along with the cover story: "Boston's Top Legal Team in the Fight to Prevent Medical Errors." The article is reproduced in full below.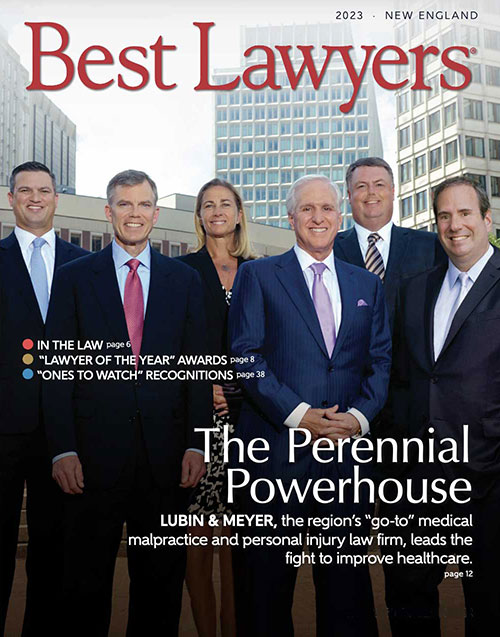 Lubin & Meyer, headquartered in Boston, represents injured persons and their families in Massachusetts, New Hampshire and Rhode Island, with a record of success unmatched by any other firm in the region.
---
Boston's Top Legal Team in the Fight To Prevent Medical Errors
Studies show an alarming increase in avoidable medical errors in hospitals. Lubin & Meyer founder and patient safety advocate, Andrew C. Meyer, Jr. is not surprised.

By Justin Smulison
Best Lawyers New England
For nearly 50 years, Andrew C. Meyer, Jr. and his law firm, Lubin & Meyer, have represented plaintiffs in New England who have suffered severe and life-altering injuries due to someone else's negligence.
In recent years, Meyer and his partners have noticed an increase in the number of claims stemming from preventable medical errors.
"During the discovery phase of our cases, we repeatedly find that our clients' conditions were either missed or worsened as a result of a breakdown in communication between patient and provider, or as result of the provider's misdiagnosis of the patient's symptoms," says Meyer, who was recently featured in the Boston magazine exposé, "The Secret Truth About Boston's Doctors."
Lubin & Meyer is widely recognized as the most formidable medical malpractice and catastrophic personal injury firm in New England. In 2022, the firm demonstrated that reputation by securing 34 verdicts and settlements of $1,000,000.00+. It was the 15th consecutive year that the firm eclipsed the results of all other regional law firms.
"We field hundreds of calls a week from patients who have had a bad experience in their care," says Meyer. While not all of these calls will result in a claim, many patients are often dissatisfied with their medical care and outcomes.
Medical Errors Are on the Rise According to New Study
In January 2023, the New England Journal of Medicine (NEJM) released the findings of a study assessing the frequency, preventability and severity of patient harm in a random sample of admissions to 11 Massachusetts hospitals. Alarmingly, these "adverse events" were identified in nearly one in four admissions, and approximately one-fourth of those were preventable.
"The NEJM study is just one of many that confirms what we have known and reported on for years," says Meyer. "The lack of transparency in healthcare enables dangerous doctors to continue to practice, and providers are not always held accountable for preventable mistakes. When a patient suffers preventable harm due to a medical error caused by a health care provider, our firm is often that patient's only recourse."
We work to improve the practice of medicine through our advocacy — from the blood labs to the operating room. We are, in effect, a consumer watchdog on the healthcare system."
One such scenario played out in 2022 when Lubin & Meyer represented a plaintiff whose cancer went undetected due to faulty bloodwork that should have been reported as "abnormal." The plaintiff was not notified of the error, which went undiscovered for several years until the plaintiff was diagnosed with advanced, incurable cancer. Meyer and firm partners William J. Thompson and Maria L. Mazur uncovered this detail, securing $14 million for the client at mediation.
"Claims are becoming more complex," Meyer notes. "We spend more time today than at any other period in our firm's history investigating the claims because medical providers have become more sophisticated in how their work is documented, and as a result of the providers not wanting to acknowledge that an error was made in the care delivered."
In fact, failures or delays in informing or diagnosing medical conditions were the root cause of action for the majority of Lubin & Meyer's cases that were resolved in 2022. Sadly, Meyer notes that several of those errors led to preventable deaths.
Lubin & Meyer's lawsuits have exposed unsafe practices and system failures— including "double-booking" surgeries, "alarm fatigue" and computer system flaws leading to medication errors. Such lawsuits have led to improved systems, national awareness and new rules and procedures.
Holding Health Providers Accountable
Despite advances in science and technology, medical error has been one of the leading causes of preventable death in the U.S. for years. By exposing systemic failures in medical care, Meyer and his firm work to increase transparency in health care and educate medical consumers.
Meyer sees the need to increase awareness and build a "healthy skepticism" among patients seeking medical care.
"Historically, the assumption by many patients is that doctors are infallible. We have proven that to be faulty thinking," Meyer says. "The rise in claims rooted in medical errors should help patients to recognize that doctors can and do indeed make mistakes.
"Furthermore, there are doctors with drug and alcohol dependencies who still treat patients, without the latter's knowledge, which will only drive more negligence and malpractice claims.
"Our aim is not to discredit the medical profession or suggest widespread and intentional wrongdoing. As in any profession, there are doctors and medical professionals who provide substandard care, and the consequences can be costly — even catastrophic. It has been our longstanding mission to use the legal system to expose and correct dangerous medical practices in order to prevent further injuries."
---
About Best Lawyers
New England's Best Lawyers is mailed to recognized lawyers in New England and is distributed in the The Boston Globe. Additionally, the digital publication is available in full at www.bestlawyers.com.
Lubin & Meyer's History of Recognition by Best Lawyers
Lubin & Meyer has been featured on the cover of New England's Best Lawyers six times in the last 10 years.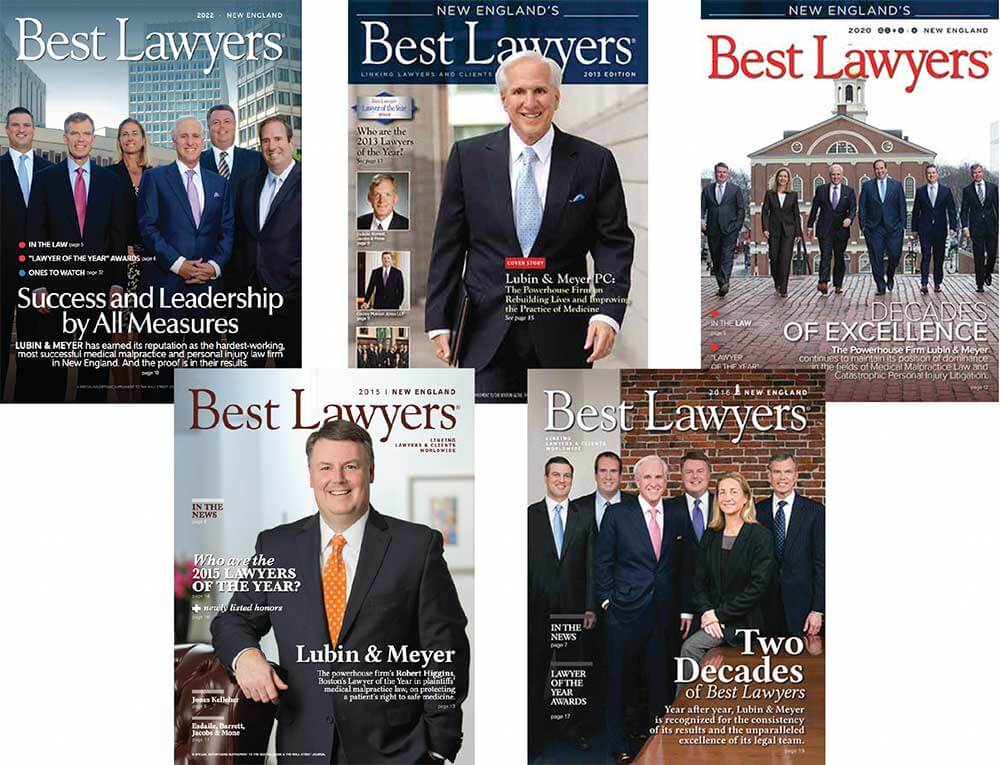 In 2013, Andrew Meyer was featured with an accompanying cover story, "The Powerhouse Medical Malpractice Law Firm on Rebuilding Lives and Improving Medicine." That article states,
The systemic improvements the firm has forced over the years have been significant. In just one example, after a Lubin & Meyer suit uncovered a flaw in a major Boston hospital's computer system that allowed medical professionals to overdose a patient resulting in her death, the hospital changed its protocols and put a backup system in place to safeguard against a similar tragedy.
In 2015, Robert Higgins who was selected as Boston's Medical Malpractice Lawyer of the Year appeared on the cover with the companion article, "Safeguarding A Patient's Right to Secure and Reliable Medicine." In that issue, Higgins is quoted,
"The fact is, medical mistakes are endemic to our health care system, they are one of the leading causes of death in this country, and as a firm, it is not only our mission to achieve maximum compensation for our clients, but also to ensure patient safety for the general public. Improving any system requires change, which in turn requires leadership, and that is where we excel."
In 2016, the firm's partners graced the issue titled, "Two Decades of Best Lawyers," highlighting Lubin & Meyer's leadership on patient safety issues, which has earned the firm recgonition nationwide. One example given: Lubin & Meyer lawsuits at the center of the controversy over the practice of a single surgeon double-booking (overlapping) surgeries — used by surgeons at Massachusetts General Hospital and others — which was covered in an exposé by the Boston Globe's Spotlight Team, exposing the practice and leading to changes required by the Massachusetts Board of Medicine.
Meyer is quoted,
"Patients deserve a health care system where safety is a priority and errors are not just swept under the rug. By exposing the lack of quality treatment in these institutions, we have done our part to help create a safer environment for patients everywhere."
In 2020, Best Lawyers New England highlighted Attorney Meyer's outspoken call for reform of the Massachusetts Board of Registration in Medicine, due to examples of self-regulation protecting doctors more than patients.
The articles states:
"As New England's most recognizable medical malpractice attorney, he has built a firm around his mission of representing the voiceless—people seriously injured by the shortcomings and mistakes of a complex, often secretive medical system. 'Our work shines a light on dangerous practices, a medical system unable to regulate itself and mistakes that by definition are avoidable,' says Meyer."
In 2022, Best Lawyers New England recognized the firm for its unmatched results describing Lubin & Meyer as the "hardest-working, most successful medical malpractice and personal injury law firm in New England." The feature article, Success and Leadership by All Measures, notes that:
the firm "is known for accepting challenging and high-profile cases — such as those related to "patient dumping," concurrent (double-booking) surgeries and computer-dosing errors—all taking place at major Boston hospitals. The firm's work has often led to substantial and landmark results that have set precedents in consumer and injury law.""
Call for a Free Case Review
Lubin & Meyer represents plaintiffs — individuals and families — in Massachusetts, New Hampshire and Rhode Island.
You can request a free case review to have a claim evaluated by their experienced medical malpractice team and injury lawyers.
Return to Medical Malpractice Lawyer News index