New England's Best Lawyers Honors Lubin & Meyer for Decades of Excellence
Powerhouse law firm recognized for its dominance in medical malpractice and catastrophic personal injury litigation
Best Lawyers® / Boston Globe - August 7, 2020
BOSTON, MA—Five plaintiff's attorneys at Lubin & Meyer PC again have been selected for inclusion in New England's Best Lawyers® 2020 Edition, the annual peer review guide to the top lawyers in the region.
Listed below are the attorneys selected, total years in the guide, and the practice area or areas in which they are recognized.
The firm's partners appear on the cover of the 2020 edition of New England's Best Lawyers, featured in The Boston Globe and Wall Street Journal on August 7, 2020, with an accompanying cover story, "Decades of Excellence," which is reproduced in full below.
Lubin & Meyer, headquartered in Boston, represents injured persons and their families in Massachusetts, New Hampshire and Rhode Island, with a record of success unmatched by any other firm in the region.
---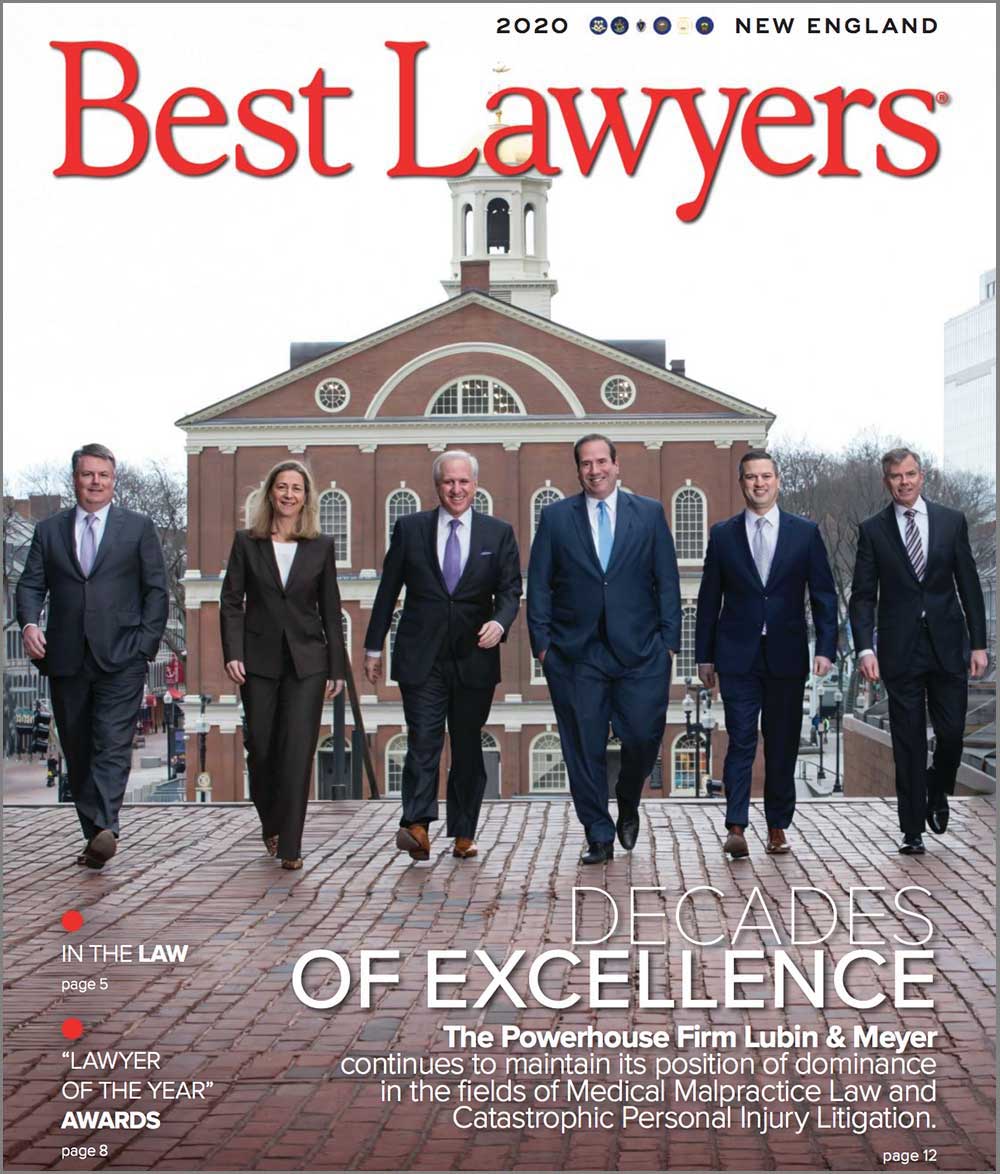 Lubin & Meyer: Decades of Excellence
Lubin & Meyer has earned its reputation as the hardest-working, most successful medical malpractice and catastrophic personal injury law firm in New England. And the proof is in the results.

By Justin Smulison
WHEN LUBIN & MEYER cofounder Andrew C. Meyer Jr. was featured last year in a Boston magazine exposé, "The Secret Truth About Boston Doctors," he wasn't shy about speaking out against a medical system in Massachusetts that often, the magazine charged, protects dangerous physicians at the expense of unwitting patients.
In a follow-up to the article, Meyer appeared as a guest on the New England Cable News network, where he highlighted the failures of the Massachusetts Board of Medicine to adequately discipline doctors who have a record of harming multiple patients. Meyer pointed specifically to a current member of the board, who was appointed while a malpractice suit against him was pending. The board, Meyer told the magazine, needs "to represent the safety of patients rather than to protect doctors."
Meyer's contributions toward making the practice of medicine safer have inspired sweeping changes in the way health care is delivered. As New England's most recognizable medical malpractice attorney, he has built a firm around his mission of representing the voiceless—people seriously injured by the shortcomings and mistakes of a complex, often secretive medical system. "Our work shines a light on dangerous practices, a medical system unable to regulate itself and mistakes that by definition are avoidable," he says. "For a medical professional to choose not to run a test, spend the necessary time, or respond to symptoms is inexcusable. Our firm's work calls attention to systemic problems, holds individuals accountable, and forces substandard practices to be changed.
"Recovering compensation for our clients' ongoing care, hospital bills and associated costs is important," he adds, "but time and time again our clients come to us seeking accountability— the need to hold a negligent doctor accountable or expose a flawed medical system so that these kinds of mistakes don't happen to another family."
Growing to Meet the Challenge
Medical errors rank as the third leading cause of death in the United States. As such, Lubin & Meyer has grown accordingly, in both the number and amount of record-setting verdicts and settlements it obtains on behalf of its clients. Trial attorneys under Meyer's leadership have become seasoned courtroom stars in their own right: Robert M. Higgins, Krysia J. Syska, William J. Thompson, Adam R. Satin, and Nicholas D. Cappiello join Meyer in receiving the highest ratings for ethical standards and professional excellence from Super Lawyers, Martindale-Hubbell, and many other distinguished attorney-rating organizations and directories.
Lubin & Meyer further boosted its bench strength last year, welcoming attorney Patrick M. Haggan, a veteran prosecutor at the Suffolk County District Attorney's Office who oversaw 160 lawyers and more than 30,000 criminal cases each year, including complex trials such as the 2017 double-murder case against former New England Patriots football player Aaron Hernandez. Haggan, Meyer says, is "one of the most respected trial attorneys in the area," whose presence at the firm is already producing results: Haggan obtained a $2.5 million verdict just a few months after joining the firm.

Left to right: Partners Krysia Syska, Adam Satin, Robert Higgins, Nicholas Cappiello, Drew Meyer and Bill Thompson.
---
Leaders in Medical Malpractice and Catastrophic Personal Injury Law
In 2019, Lubin & Meyer again led all law firms in Massachusetts with 64 verdicts and settlements of $1 million or more, including one nearly $12 million settlement achieved by the firm before the claim was even filed in the court, according to Massachusetts Lawyers Weekly—the firm's best year yet. "We secured our greatest number of settlements, but we also won legally significant and hard-fought-for jury verdicts," says Meyer, who has been recognized by The Best Lawyers in America© annually since 1995 in Medical Malpractice and Personal Injury Litigation. The four verdicts won in 2019 totaled nearly $30 million, the largest gross amount among malpractice firms in the state last year, according to cases published by Massachusetts Lawyers Weekly. Those results:
These outcomes demonstrate the firm's success handling the most challenging, complex cases. The $11.5 million verdict, Meyer says, was a prime example of the firm's courtroom prowess, making an impact on the lifetime care of a child who was just 18 months old at the time of injury. "The child's chest X-ray was misinterpreted by the defendant radiologist, and the little girl ultimately suffered from myocarditis—an infection around the heart—as well as severe neurological injuries that will remain with her," he says. "The compensation we secured on her behalf will ease a lifetime of financial burdens caused by this avoidable error."
Lubin & Meyer's unmatched record of success has earned it a reputation as the go-to law firm for seriously injured residents of Massachusetts, New Hampshire, and Rhode Island. "We have the finest trial team in New England," Meyer says. "Our results on behalf of our clients speak for themselves."
---
About Best Lawyers
New England's Best Lawyers is mailed to recognized lawyers in New England and is distributed in the The Wall Street Journal (in New England) and the The Boston Globe. Additionally, the digital publication is available in full at www.bestlawyers.com.
Lubin & Meyer's History of Recognition by Best Lawyers
Lubin & Meyer has been featured on the cover of New England's Best Lawyers four times in the last eight years.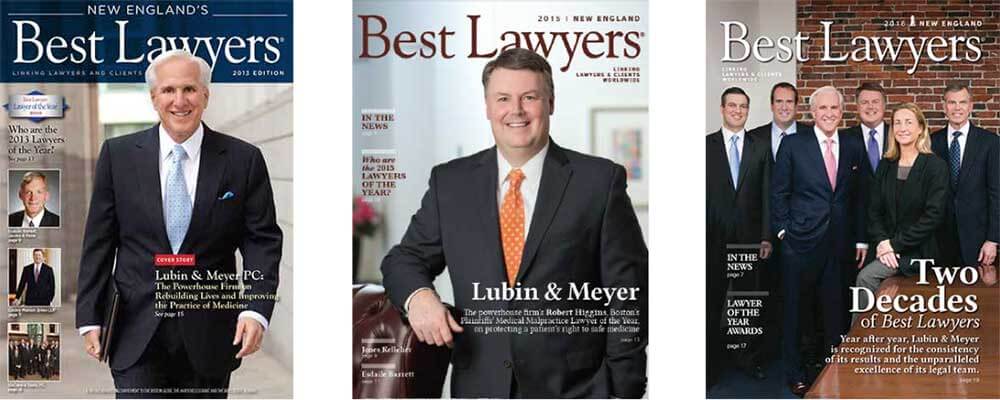 In 2013, Andrew Meyer was featured with an accompanying cover story, "The Powerhouse Medical Malpractice Law Firm on Rebuilding Lives and Improving Medicine." That article states,
The systemic improvements the firm has forced over the years have been significant. In just one example, after a Lubin & Meyer suit uncovered a flaw in a major Boston hospital's computer system that allowed medical professionals to overdose a patient resulting in her death, the hospital changed its protocols and put a backup system in place to safeguard against a similar tragedy.
In 2015, Robert Higgins who was selected as Boston's Medical Malpractice Lawyer of the Year appeared on the cover with the companion article, "Safeguarding A Patient's Right to Secure and Reliable Medicine." In that issue, Higgins is quoted,
"The fact is, medical mistakes are endemic to our health care system, they are one of the leading causes of death in this country, and as a firm, it is not only our mission to achieve maximum compensation for our clients, but also to ensure patient safety for the general public. Improving any system requires change, which in turn requires leadership, and that is where we excel."
In 2016, the firm's partners graced the issue titled, "Two Decades of Best Lawyers," highlighting Lubin & Meyer's leadership on patient safety issues, which has earned the firm recgonition nationwide. One example given: Lubin & Meyer lawsuits at the center of the controversy over the practice of a single surgeon double-booking (overlapping) surgeries — used by surgeons at Massachusetts General Hospital and others — which was covered in an exposé by the Boston Globe's Spotlight Team, exposing the practice and leading to changes required by the Massachusetts Board of Medicine.
Meyer is quoted,
"Patients deserve a health care system where safety is a priority and errors are not just swept under the rug. By exposing the lack of quality treatment in these institutions, we have done our part to help create a safer environment for patients everywhere."
Call for a Free Case Review
Lubin & Meyer represents plaintiffs — individuals and families — in Massachusetts, New Hampshire and Rhode Island.
Request a free case review to have your claim evaluated at no cost by our experienced medical malpractice and injury lawyers.
Return to Medical Malpractice Lawyer News index