IN THE NEWS
Who Will Save Us From Dangerous Doctors?
Attorney Andrew Meyer calls out Massachusetts Board of Registration in Medicine for failing to protect patients from bad doctors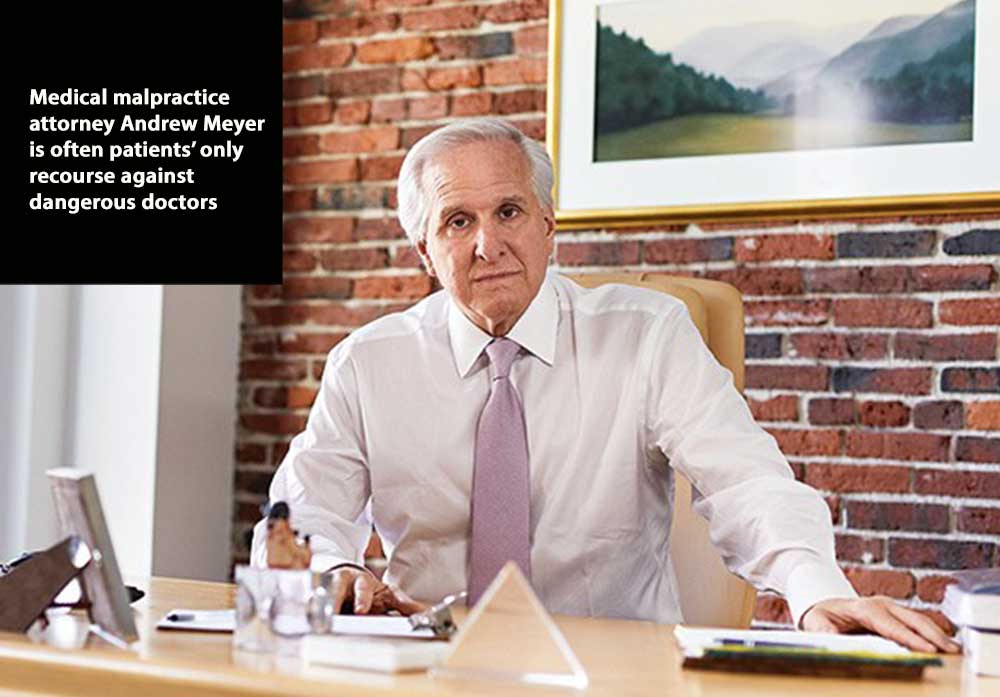 Boston Magazine calls trial attorney and patient advocate Andrew Meyer "Boston's most prolific medical malpractice attorney" in an exposé on dangerous doctors.
---
The Secret Truth About Boston Doctors
Sexual misconduct, sloppy — sometimes catastrophic — mistakes, and a medical board that's been known to look the other way. Local physicians keep getting away with bad medicine, but you may never know who they are until it's too late.
In the June 2019 issue of Boston Magazine, writer Michael Damiano uncovers the secretive world of Boston medicine — one where doctors who have multiple medical errors on their records, continue to treat patients. Damiano's reporting further reveals that the Massachusetts Board of Registration in Medicine, the disciplinary entity meant to regulate physicians, is not only ineffective and lacking in transparency, but includes some of the very doctors it should be investigating on its board.
Writes Damiano:
"When physicians with histories of bad outcomes do face consequences, the sanctions tend to be temporary or easily circumvented. Doctors quietly leave one hospital, only to pop up at another. In severe cases, a doctor with a history of problems might leave Massachusetts altogether and reboot his or her career in another state. Meanwhile, studies have found that as few as 10 percent of medical errors are reported nationwide, and here in Massachusetts, the state medical board acts only in a small fraction of the cases that come before it. Last year, for instance, the board received 211 complaints alleging medical mistakes but disciplined only 17 doctors for providing substandard care."
Who Will Save Us From Our Doctors?
The article chronicles the medical ordeal of Lubin & Meyer client, Charles Antonio, a patient who suffered a debilitating and life altering injury at the hands of his doctor, Michael Medlock, MD. Unbeknownst to Antonio, Dr. Medlock had recently settled several medical malpractice lawsuits filed by other patients injured during surgery. Surprisingly, Damiano states that Dr. Medlock has been named to the Board of Registration in Medicine — the very entity that is supposed to protect patients from dangerous doctors.
---
Note: As an update to this story, on Febuary 27, 2020, Lubin & Meyer won this medical malpractice case at trial, with a jury returning a verdict of $3 million plus interest for the plaintiff. Learn more at: Antonio v. Medlock.
---
Below is an excerpt of the article where Lubin & Meyer enters the story.
STANDING OUTSIDE OF ANTONIO'S HOSPITAL ROOM at Mass General, a day after learning of the allegedly misplaced screw in her husband's neck, Linda [Antonio] paused and took a deep breath before entering. She wanted so badly to act brave, but her mind was somewhere else. There was equipment floor to ceiling, she recalls, overwhelmed by the scene.... With horror, she noticed the halo exoskeleton screwed into his skull. As she stepped closer, the nurse dialed back Antonio's sedatives and he gradually regained consciousness. Leaning down toward her husband, Linda heard him whisper, "Call Alex," referring to their friend, a lawyer. When she reached the friend, he immediately advised her to contact the only man he knew could surely help: Andrew Meyer.

For the First Time Someone Was Listening

Meyer is not only Boston's most prolific medical malpractice attorney, but he also has one of the best views of how the system that is supposed to protect patients from bad doctors consistently fails. Every month, his firm, Lubin & Meyer, fields hundreds of calls from people who believe they have been harmed by negligent care. Some of those people are mistaken (again, accidents happen), some may be right but don't have a winnable case, and some, like the Antonios, have a claim that becomes the basis of a lawsuit. On November 18, 2015, in a phone call, Linda unloaded her story to Krysia Syska, a partner at Meyer's firm who ultimately represented the Antonios. For the first time, Linda says, "somebody was listening."

Meyer and his team see their work as the last line of defense against a sprawling, powerful, and indifferent regime. After all, Meyer says, the medical industry and state government have never adequately protected patients. "I say to my team all the time that we're the consumer protection bureau," he tells me. And he likes to make sure Charlie Baker knows about it. "When I see the governor," Meyer says, "and he asks, 'How's business?' I say, 'The bad news for the patients of Massachusetts is that our business is very good.'"
---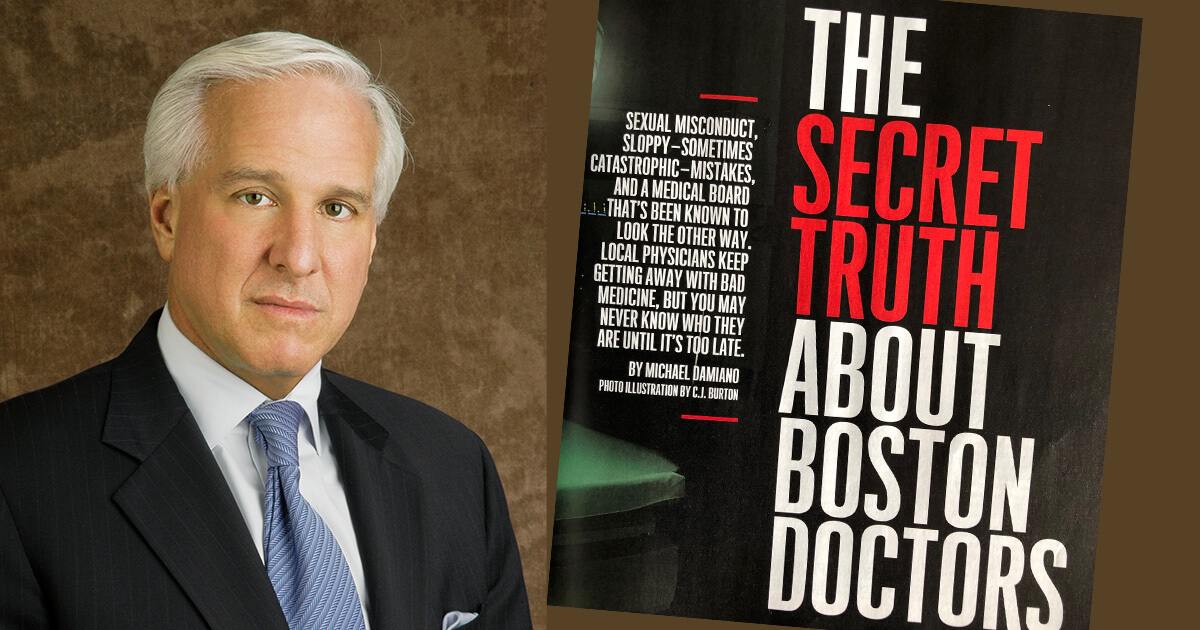 Boston Magazine says medical malpractice attorney Andrew Meyer is often patients' only recourse against dangerous doctors.
---
To read the full article on dangerous doctors, click on the headline below to go to the Boston Magazine website:
The Secret Truth About Boston Doctors >
See also: Andrew Meyer discusses this case and the topic of Physicians Who Are Repeat Offenders of Medical Malpractice on NECN TV / NBC10 Boston.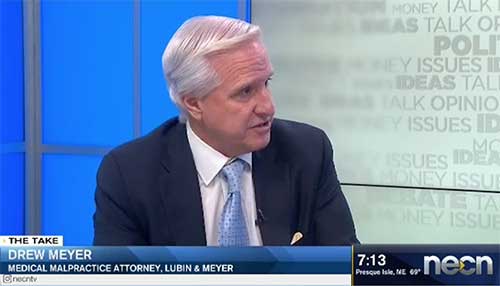 Watch video or read transcript here.
---
Questions about medical malpractice?
If you have questions about a possible medical malpractice claim, Lubin & Meyer can review your case for free.
Contact Us - There is no fee or cost to you to have your case evaluated by our qualified medical malpractice attorneys. Call 617-720-4447 to speak with an attorney today.
Lubin & Meyer PC - Boston's Innovative Leader in Medical Malpractice and Personal Injury Law
Our medical malpractice lawyers are licensed to practice in:
Massachusetts, New Hampshire and Rhode Island.
---
Return to: Attorneys in the News