New England's Best Lawyers® Recognizes Lubin & Meyer for Unmatched Results
Described as the hardest-working, most successful medical malpractice and personal injury law firm in New England.
Best Lawyers® / Boston Globe - April 2022
BOSTON, MA—Five plaintiff's attorneys at Lubin & Meyer PC again have been selected for inclusion in New England's Best Lawyers® 2022 Edition, the annual peer review guide to the top lawyers in the region.
Listed below are the attorneys selected, total years in the guide, and the practice area or areas in which they are recognized.
They appear on the cover of the 2022 edition of New England's Best Lawyers, featured in The Boston Globe in April 2022, with the accompanying cover story, "Success and Leadership by All Measures," which is reproduced in full below.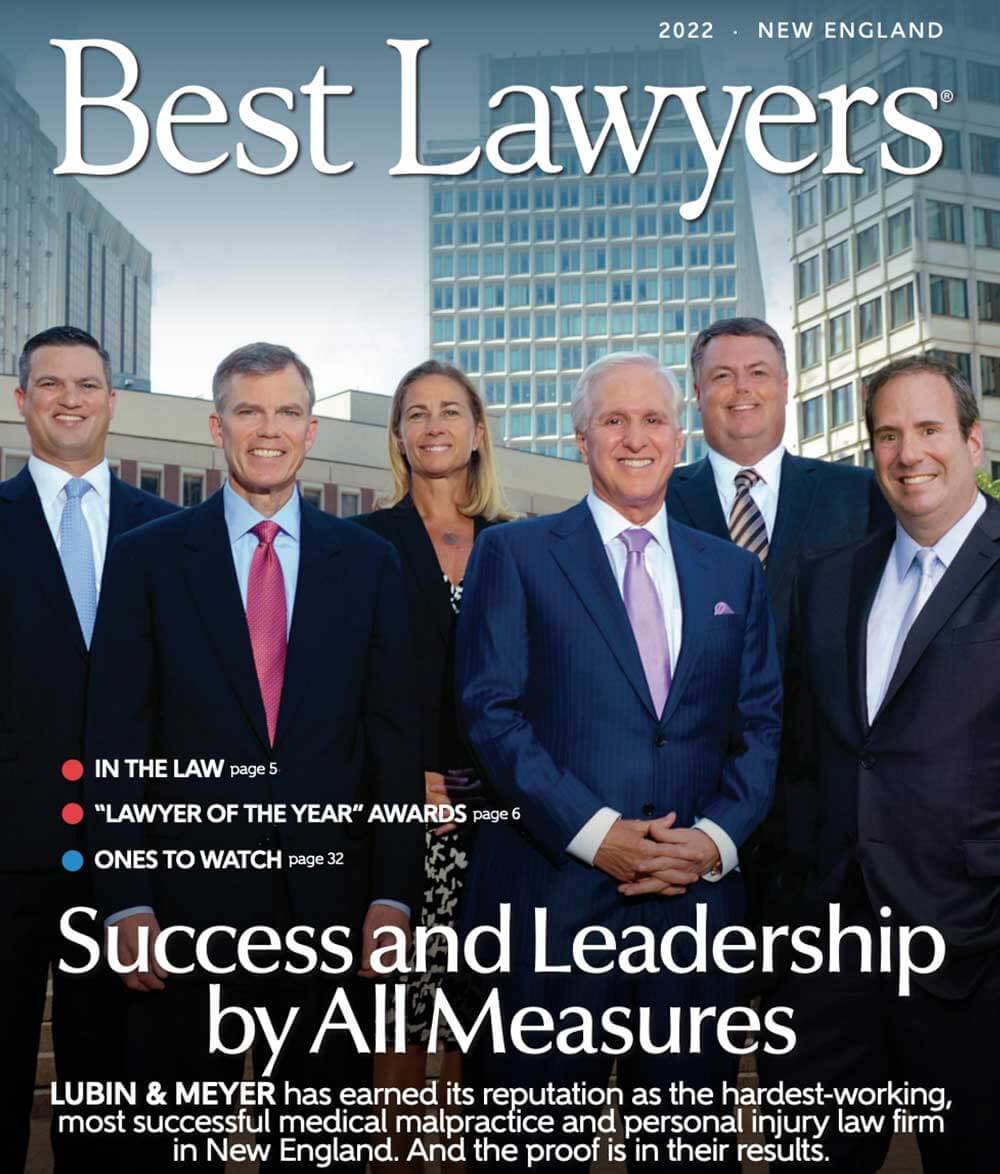 Lubin & Meyer, headquartered in Boston, represents injured persons and their families in Massachusetts, New Hampshire and Rhode Island, with a record of success unmatched by any other firm in the region.
---
Success and Leadership by All Measures
Lubin & Meyer has earned its reputation as the hardest-working, most successful medical malpractice and catastrophic personal injury law firm in New England. And the proof is in the results.

By Justin Smulison
The success of injury law firms can be measured in various ways. It could be quantified by the number of favorable results and total amount of compensation; or one could qualify it through the firm's influence on the law, its impact on the community as well as by the level of client satisfaction. Lubin & Meyer is considered New England's most successful medical malpractice and catastrophic personal injury law firm by consistently outperforming all other law firms in each and every one of these areas. While other firms may assert these claims in their advertising, Lubin & Meyer advises to compare actual results when choosing a law firm.
In 2021, Lubin & Meyer once again dominated Massachusetts Lawyers Weekly's record of the year's largest verdicts and settlements by securing more than 6 times as many settlements at or above $1,000,000 than any other firm in the Commonwealth.
Through its innovative trial and negotiating strategies, the firm has secured numerous record-setting multi- million-dollar results in both medical malpractice and personal injury cases — results unmatched by any other firm.
"Medical negligence and catastrophic personal injury law are two of the most complex areas of practice," says founding partner Andrew C Meyer Jr who has been selected to The Best Lawyers in America® every year since 1995 in Personal Injury Litigation - Plaintiffs and since 2007 in Medical Malpractice Law - Plaintiffs. "This can be a dangerous world, which is why we work so hard to expose and correct problems in our healthcare system and improve unsafe conditions faced by the public."
Meyer continues, "Litigation is really one of the only ways that patients and consumers can address dangers that exist in medicine or unsafe products with the hope to make them safer for the rest of us. Our work is to recover appropriate compensation for our clients' injuries, but we also work to change systemic problems and substandard practices, and that benefits all consumers."
Taking on Complex and Landmark Cases
The firm is known for accepting challenging and high-profile cases — such as those related to "patient dumping," concurrent (double-booking) surgeries and computer-dosing errors—all taking place at major Boston hospitals. The firm's work has often led to substantial and landmark results that have set precedents in consumer and injury law.
Earlier this year, the firm negotiated a $14 million settlement on behalf of its client, a wife and mother, who was injured due to a medical laboratory error. This was not a typical medical malpractice case. It required a multidisciplinary trial team to perform an in-depth investigation to gain an understanding of the interactions between providers and the steps in the lab processes. Lubin & Meyer was able to uncover a pattern of misinformation that had emerged from the lab, which led to the client's preventable injury. The firm obtained a $14 million settlement for the client, believed to be a record-setting amount for a lab error in Massachusetts.
"It was very satisfying to achieve this outcome for the client, whose case was resolved in only one year," Meyer says. "Our expertise allowed us to uncover fact patterns that shed light on the big picture and how it might affect the public. The chain is only as strong as its weakest link. If just one doctor or employee relays or acts on misinformation, a patient can suffer life-altering consequences."
A Voice for the Voiceless
Meyer is not one to mince words about the medical profession. His perspective was featured in a groundbreaking Boston magazine exposé, "The Secret Truth About Boston Doctors," in which he detailed a medical system in Massachusetts that often, the magazine charged, protects dangerous physicians at the expense of unknowing patients.
"We see a tremendous amount of birth injuries and failure-to-diagnose cancer cases stemming from doctors not acting on the symptoms their patients reported," he says. "That should signal testing for early detection, and instead physicians write them off to other illnesses. By the time a cancer is discovered, it's too late. We see very little effort made to protect patients from the kind of harm that traditionally occurs when there is a lack of attention or failure to follow up. Even prior to the pandemic, these sorts of claims were emerging quite prominently and are now unfortunately more commonplace."
In addition to the five attorneys honored here for their inclusion in the Best Lawyers® list for 2022, Meyer's team is comprised of accomplished legal leaders who offer a range of expertise that includes nurses, physicians, administrative personnel, computer programmers, an economist and a quality control manager. "Everyone in our office is devoted to securing justice for injury and malpractice victims and contributes to the favorable decisions and outcomes for which we are widely known."
---
About Best Lawyers
New England's Best Lawyers is mailed to recognized lawyers in New England and is distributed in the The Boston Globe. Additionally, the digital publication is available in full at www.bestlawyers.com.
Call for a Free Case Review
Lubin & Meyer represents plaintiffs — individuals and families — in Massachusetts, New Hampshire and Rhode Island.
You can request a free case review to have a claim evaluated by their experienced medical malpractice team and injury lawyers.
Return to Medical Malpractice Lawyer News index