The Powerhouse Medical Malpractice Law Firm on Rebuilding Lives and Improving Medicine
Cover story from New England's Best Lawyers
Featured in the Boston Globe, July 12, 2013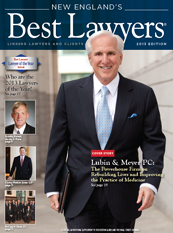 On September 7, 2002, a baby was born via c-section at a Massachusetts hospital: an occurrence that happens at virtually every major medical center across the country on a daily basis. But the birth of this baby did not go as planned. The mother had labored for three consecutive days before the infant was finally delivered by cesarean section. Two days after birth, the baby started to experience seizures and was transferred to a neonatal intensive care unit at a nearby hospital. At the NICU, the infant was treated with Phenobarbital, which proved ineffective at controlling his seizures, so the infant's doctor ordered a dose of a different anti-seizure medication, Dilantin. But rather than injecting the medication intramuscularly as was ordered, the NICU nurse injected the medication intravenously to the infant—an egregious error with devastating neurological consequences for the infant.
Advocates for Injured Patients
Enter plaintiffs' attorneys Andrew C. Meyer, Jr., and William J. Thompson of the medical malpractice powerhouse firm Lubin & Meyer PC. A month before the 2010 trial was set to begin in this case, Meyer and Thompson were able to prove that the baby's injuries resulted from the improper administration of Dilantin and the parties settled for $6 million.
"Those moments of the doctors' and nurses' neglect resulted in a lifetime of consequences for this family that needed to be addressed," says Meyer, a founding member of the firm. "This settlement meant that there could be some degree of normalcy for this family. This family would be able to access the resources and support services they would need over the course of the child's life."
For Meyer and his colleagues—all recognized by their peers as amongst the best in the business—every claim the firm brings is about seeking accountability. But Lubin & Meyer takes it a step further.
"We want to improve the medical system so that others aren't harmed under similar circumstances," Meyer says. "In some ways, our firm is essentially a patient watchdog organization making sure these medical errors aren't swept under the rug."

Working to Improve Patient Safety
The systemic improvements the firm has forced over the years have been significant. In just one example, after a Lubin & Meyer suit uncovered a flaw in a major Boston hospital's computer system that allowed medical professionals to overdose a patient resulting in her death, the hospital changed its protocols and put a backup system in place to safeguard against a similar tragedy.
An August 2012 study conducted by a professor at UCLA Law found that med mal lawsuits are an important source of information about medical error—and that the data uncovered during litigation is useful in patient safety efforts.
"The sad reality of the medical profession's culture is that there's little proactivity in addressing the risks that patients are exposed to," says Meyer. "In many cases the only way that necessary and lifesaving changes will be made is through the efforts of a firm like ours."

Getting Results
Lubin & Meyer's record of success is truly impressive and consistently higher than that of other firms. Through the first five months of 2013, the firm has already achieved four verdicts totaling approximately $5M in a practice area where the defense wins approximately 9 out of 10 jury trials nationally.

And that's not to mention the countless verdicts and settlements each in excess of $1 million that it has been able to achieve over its years in practice. It also holds the record for the largest medical malpractice verdict in state history at a whopping $40 million.
"We're very proud of what we are able to accomplish for our clients," says Meyer. "We have to fight hard, but our success results from our passion for what we do. We believe in our cause. We're smart, dedicated and committed to this work."
That's been the name of the game at Lubin & Meyer since the firm—with 12 attorneys, four staff nurses and a team of paralegals—was founded in 1974. Today, the firm is as committed to justice as it was on the first day it opened its doors to people seeking help with challenging legal problems.
"When the insurance industry puts together teams of attorneys to fight and intimidate, they can short change the people the medical profession has harmed and deny them compensation," says Meyer, who has been described in countless publications as a dogged and relentless warrior for the rights of injured patients. "We will fight on all fronts to bring about positive change for our injured clients which can benefit society as a whole. Doing what's right is what gets us out of bed in the morning."
See related information: Making A Difference
Return to Medical Malpractice Lawyer News index