Five at Lubin & Meyer Selected to New England's Best Lawyers®
Selected in areas of Medical Malpractice Law and Personal Injury Litigation
Featured in the Boston Globe, July 12, 2013
(See most recent Best Lawyers® honors here.)
BOSTON, MA—Five attorneys at the medical malpractice law firm Lubin & Meyer PC have been selected for inclusion in New England's Best Lawyers® 2013 edition, a guide to New England's top lawyers based soley on the vote of their peers.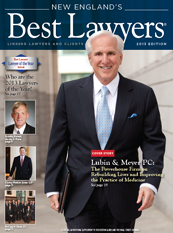 They are: Andrew C. Meyer, Jr. (pictured on the cover), Robert M. Higgins, William J. Thompson, Krysia J. Syska and Adam R. Satin.
The Globe's special supplement features Andrew Meyer on the cover and the feature article highlights Lubin & Meyer's impact on both it's clients lives and the practice of medicine.
"For Meyer and his colleagues—all recognized by their peers as amongst the best in the business—every claim the firm brings is about seeking accountability. But Lubin & Meyer takes it a step further. 'We want to improve the medical system so that others aren't harmed under similar circumstances,' Meyer says. 'In some ways, our firm is essentially a patient watchdog organization making sure these medical errors aren't swept under the rug.'"

The systemic improvements the firm has forced over the years have been significant. In just one example, after a Lubin & Meyer suit uncovered a flaw in a major Boston hospital's computer system that allowed medical professionals to overdose a patient resulting in her death, the hospital changed its protocols and put a backup system in place to safeguard against a similar tragedy.
See full article here: Lubin & Meyer PC: The Powerhouse Firm on Rebuilding Lives and Improving the Practice of Medicine.
Lubin & Meyer is recognized across country for its commitment to quality and excellence in the preparation and trial of medical malpractice lawsuits and wrongful death claims on behalf of injured victims. Located in Boston, Lubin & Meyer attorneys are licensed to practice in Massachusetts, New Hampshire and Rhode Island.
New England's Best Lawyers is excerpted from the 2013 edition of Best Lawyers®, the oldest and most respected peer-review publication in the legal profession. The Best Lawyers in America 2013 is published by Woodward/White, Inc., of Aiken, S.C.
Return to Medical Malpractice Lawyer News index