New England's Best Lawyers 2019 Honors Five Attorneys at Lubin & Meyer
Five trial attorneys recognized in areas of medical malpractice law and personal injury litigation
Best Lawyers® / Boston Globe - April 29, 2019
(Click here to see the most recent New England's Best Lawyers news.)
BOSTON, MA—Five plaintiff's attorneys at Lubin & Meyer PC again have been selected for inclusion in New England's Best Lawyers® 2019 Edition, the annual peer review guide to the top lawyers in the region.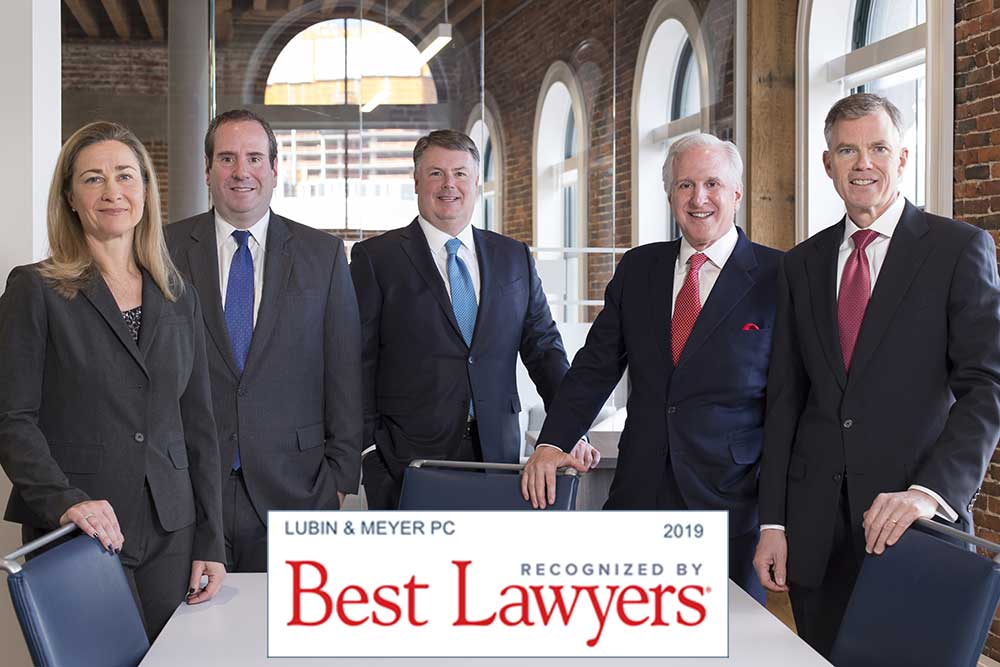 Left to right: Krysia Syska, Adam Satin, Robert Higgins, Drew Meyer, Bill Thompson.
---
Below are listed the attorneys selected, total years in the guide, and the practice area or areas in which they are recognized.
A Record Unlike Any Other
Maintaining its record of unparalleled success representing injured patients and their families, 2018 was another standout year for the Boston-based plaintiffs' powerhouse law firm, Lubin & Meyer. The firm achieved more than four times as many "million-plus" verdicts and settlements than any other firm in the Commonwealth, while also obtaining an historic three consecutive medical malpractice verdicts, contributing to the more than $125 million in recoveries achieved for its injured clients last year alone.
The firm's attorneys—led by founding partner, Andrew C. Meyer, Jr.—continue to meet the highest standards of excellence, year after year.
Defining Leadership
This year, marks Meyer's 25th consecutive year of being selected to The Best Lawyers in America©. Partners Higgins and Thompson have been included alongside Meyer on this highly regarded list for the past 12 and 10 consecutive years, and partners Syska and Satin for the past eight consecutive years.
In 2019, Lubin & Meyer earned both a:
"Top Listed" award for Medical Malpractice Law - Plaintiffs in Boston
"Top Listed" award for Medical Malpractice Law - Plaintiffs in Massachusetts
from Best Lawyers as a result of having the highest number of attorneys in one firm named to the Best Lawyers' list for their practice area in the law.
Additionally in 2019, partner Adam Satin was named a "Lawyer of the Year" by Massachusetts Lawyers Weekly, joining Meyer, a past honoree, in recognition of extraordinary success achieved on behalf of the firm's catastrophically injured clients and their families.
Healthcare, A Safety Imperative
"We are honored by the awards and recognitions, but that's not at the heart of our work," said Meyer, who, along with his partners, recently upheld on appeal, the firm's $43.36 million verdict obtained for a young mother who suffered a devastating stroke following the birth of her infant daughter. "Bringing systemic changes to ensure that preventable medical tragedies don't happen to other individuals or families is what drives us as a group, and what we work toward every single day. Our success is the culmination of dedicated work by a remarkable team who embody this mission."
About Best Lawyers
New England's Best Lawyers is mailed to recognized lawyers in New England and is distributed in the The Wall Street Journal (in New England) and the The Boston Globe. Additionally, the digital publication is available in full at www.bestlawyers.com.
Call for a Free Case Review
Lubin & Meyer represents plaintiffs — individuals and families — in Massachusetts, New Hampshire and Rhode Island.
Request a free case review to have your claim evaluated at no cost by our experienced medical malpractice and injury lawyers.
Return to Medical Malpractice Lawyer News index