Lubin & Meyer Achieves Four Multimillion Dollar Jury Verdicts in First Six Months of 2018
July 2018 — Boston, MA
See more recent results: Largest Verdicts 2019
Within the first six months of 2018, Lubin & Meyer PC has obtained four multimillion dollar jury verdicts, including a rarely seen "gross neg­ligence" medical malpractice verdict, while simultaneously settling numerous $1 million+ medical malpractice and catastrophic personal injury cases — more than any other firm in the Commonwealth.

$3.2 Million Verdict for family of MGH patient for doctor's failure to inform patient of all treatment options following abnormal biopsy result. (July, 2018)
$6.8 Million Verdict for family in wrongful death case against Low­ell General doctor involving delay in diagnosis of kidney cancer. (February, 2018)
$6 Million Verdict for family of wom­an who died following hernia surgery at Winchester Hospital. (February, 2018)
$1.6 Million Verdict for patient suffering 3 years of renal failure and dialysis resulting from Dana Farber medication error. (February, 2018)
Click on a verdict amount above for more information on each trial.
Below is our recent ad in Massachusetts Lawyers Weekly.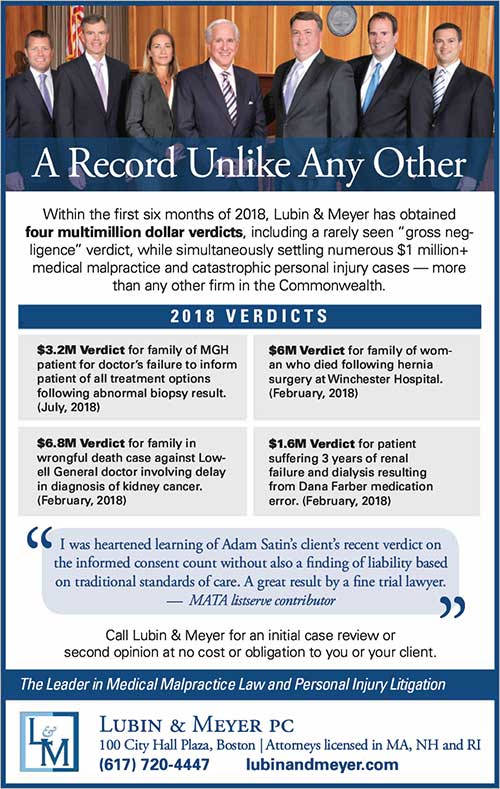 For more recent verdicts, and an archive of many previous verdicts and settlements, see our Medical Malpractice Verdicts and Settlements page.
A Record of Results
Year after year, Lubin & Meyer consistently surpasses all other firms in the Commonwealth by achieving more "million-plus" verdicts and settlements as compiled and published annually by Massachusetts Lawyers Weekly.
Compare our results to other firms...
Our attorneys represent victims of medical error and catastrophic personal injury in Massachusetts, New Hampshire and Rhode Island.
See more Verdicts and Settlements
Return to News index