Medical Malpractice and Birth Injury Lawyers
Boston's top personal injury law firm with a record of success in MA, NH and RI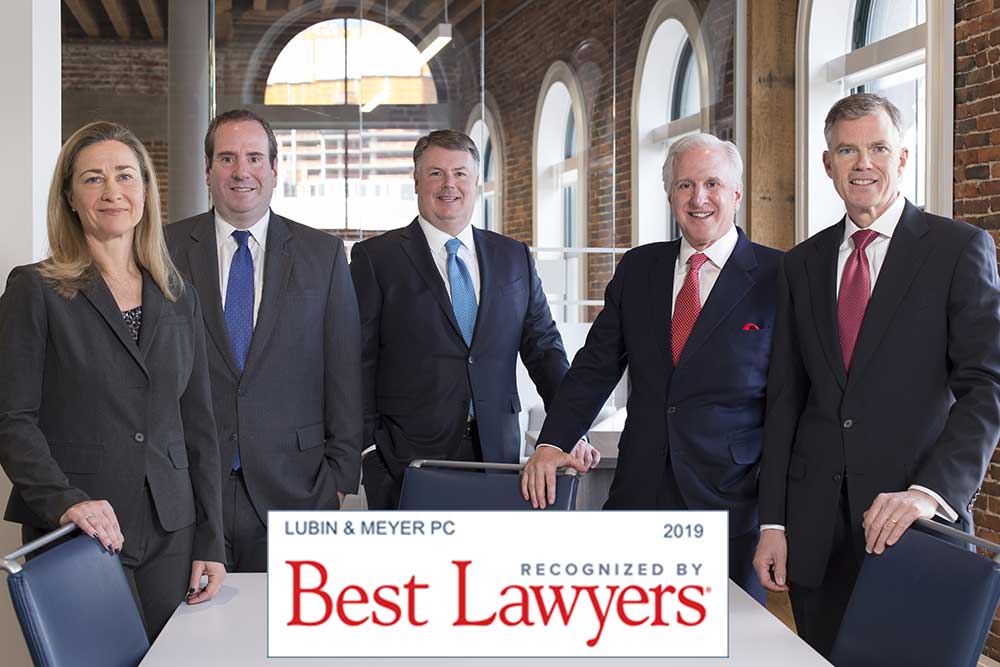 New England's Most Experienced Med Mal Law Firm
Lubin & Meyer is recognized nationally as one of the country's leading medical malpractice and catastrophic personal injury law firms. Located in Boston, Lubin & Meyer is a firm whose innovative style has won more than $650 million in verdicts and settlements in just the past ten years. Lubin & Meyer's lawyers have achieved many of the largest personal injury verdicts in state history, including:
The Innovative Leader in Medical Malpractice Law and Catastrophic Personal Injury Litigation
Founded in 1974, Lubin & Meyer is known across the country for its commitment to quality and excellence in the preparation and trial of suits on behalf of injured victims. Today, a multidisciplinary team of 19 lawyers, 4 nurses, paralegals and assistants comprise Lubin & Meyer, handling every type of medical negligence case including the most complex birth injury lawsuits including those resulting in a diagnosis of cerebral palsy.
---
Boston's Birth Injury Law Firm


Representing families in MA, NH and RI
Learn about Lubin & Meyer's representation of children who have experienced birth trauma leading to cerebral palsy and other injuries ... Learn more.
Birth Injury Verdicts and Settlements
Read select trial lawyer reports and news coverge of some of our most significant medical malpractice and birth injury verdicts and settlements.
---
Since the beginning, Lubin & Meyer's attorneys have been distinguished by their creative, innovative and aggressive approach to cases that makes the firm a winner in both the courtroom and settlement negotiations. The firm's unique style and successful tactics have drawn accolades from such diverse publications as the Boston Phoenix and The Wall Street Journal. Over the years, the firm has obtained record-setting verdicts and settlements in countless difficult cases, many of which had previously been rejected by other attorneys.
These extraordinary professional achievements have earned Lubin & Meyer such respect in the legal community that lawyers throughout Massachusetts and across the United States refer many of their cases to Lubin & Meyer. Because of their expertise, members of Lubin & Meyer are regularly called upon to lecture to other lawyers on the firm's successful trial techniques, and are asked to contribute to the state's leading professional journals.
Above, firm founder Andrew C. Meyer, Jr., appears on Greater Boston discussing the Rebecca Riley medical malpractice lawsuit.
Seeking Accountability Through the Justice System
The firm's reputation for taking on cases that force positive changes in the delivery of healthcare has spread beyond the legal community. Boston Magazine featured Lubin & Meyer in an article, calling it, "One of the best firms of its kind in the country." The firm has been consulted by CBS-TV's news show, "60 Minutes" and "Face the Nation," and its court presentations have been filmed by CNN's "Court TV" and ABC-TV's "Nightline." In addition, members of Lubin & Meyer appear frequently on Boston television stations, including ABC's affiliate Channel 5, CBS's affiliate Channel 4, NBC's affiliate Channel 7, New England Cable News, FOX25 and WGBH's Emily Rooney.
Major daily newspapers call regularly for Lubin & Meyer attorney comments on cases that are in the headlines.
Call for a Free Case Evaluation: 617-720-4447
The trial lawyers at Lubin & Meyer are experienced in a wide variety of catastrophic personal injury cases, including defective products, flammable fabrics, medical malpractice, birth injuries, and general liability claims. In an age of legal specialization, Lubin & Meyer has become the innovative leader in the personal injury field, and has earned the respect of the legal profession and the public, which it serves.
Our trial lawyers and nurses are available to review your case free of charge. Call 617-720-4447. Strictly confidential. No obligation.
Attorneys are licensed to practice in Massachusetts, New Hampshire and Rhode Island.