For 20 consecutive years, Andrew C. Meyer, Jr. has been selected for inclusion in the Best Lawyers in America® — the definitive, peer-review guide to legal excellence. In the 2015 edition Meyer's partner, Robert M. Higgins, is named Best Lawyers® "Lawyer of the Year" for Plaintiffs Medical Malpractice Law, a recognition Meyer has also achieved. Joining Meyer and Higgins on the 2015 list are partners Krysia J. Syska, William J. Thompson and Adam R. Satin. In addition, Boston Magazine recently named all seven of the firm's trial attorneys as Massachusetts Super Lawyers with Andrew Meyer named to the Top 10 List and Robert Higgins named to the Top 100 List.

Lubin & Meyer has secured the three largest verdicts within the last year — a $24.4 million* jury verdict for negligent care of a newborn, an $11 million verdict for failure to diagnose lung cancer, and a $4.8 million verdict for undiagnosed cardiomyopathy leading to death. These results complement the firm's unparalleled history of ground-breaking verdicts which include a $40 million verdict for a baby's brain injury (the largest in Massachusetts history), a $23.8 million verdict against two Massachusetts General Hospital obstetricians, and a $30 million verdict against two Brigham & Women's Hospital ob/gyn residents...
Largest Verdicts of 2013 - Mass. Lawyers Weekly, January 27, 2014


A perennial powerhouse, Lubin & Meyer obtained 25 of the largest settlements of $1 million or more in 2013, including a $7.5 million settlement for the death of a 5-year old twin following a lab error, and a $5 million settlement for birth injuries sustained when a nurse and midwife fail to act on signs of fetal distress. In 2012, the firm obtained a $4.65 million birth injury settlement for a doctor's failure to expedite delivery resulting in a baby's devastating brain damage. In 2011, the firm obtained a $6 million settlement for a similar lawsuit involving a newborn's brain injury as the result of a doctor's negligence.
Largest Settlements of 2013 - Mass. Lawyers Weekly, January 27, 2014

---
Our attorneys are experienced in handling all types of medical malpractice and personal injury lawsuits, pursuing claims for injured victims and their families in Massachusetts, New Hampshire and Rhode Island. Our firm's extraordinary success on behalf of its clients include but are not limited to:

• Anesthesia Accidents
• Birth Injury (Cerebral Palsy/Erb's Palsy)
• Brain Injury
• Burn Injury
• Cancer - Misdiagnosis, Delay in Diagnosis or Failure to Diagnosis:
Breast Cancer; Cervical Cancer; Colon Cancer; Esophageal Cancer;
Gastric Cancer; Lung Cancer; Lymphoma; Prostate Cancer;
Pancreatic Cancer; Skin Cancer; Uterine Cancer
• Cardiac Surgery
• Emergency Room Treatment
• Failure to Diagnose Heart Attack
• Failure to Diagnose Stroke/Aneurysm
• Head Injury
• Hospital Error / Hospital Negligence
• Laboratory Error / Medication Error / Medication Overdose
• Radiology
• Stroke and TIA
• Surgical Error
• Wrong Level Spine Surgery
• Wrong Site Surgery
• Wrongful Death
Learn more about how we are Making A Difference.
---
We are pleased to be recognized by these attorney-ranking organizations.
---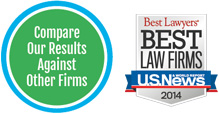 ---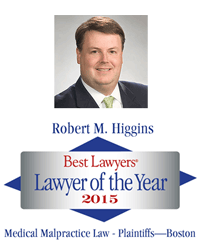 ---
$3.5M Settlement in Bowel Perforation Death Following Elective Disc Surgery
2014 Trial Report
Lubin & Meyer Client Awarded $13M in Husband's Post-op Death
Boston Herald
September 5, 2014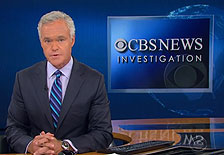 Lubin & Meyer Case Prompts
CBS News Investigation of
Aversive Shock Therapy
August 5, 2014
$1M Jury Verdict for Docís Failure
to Diagnose Rectal Cancer
July 29, 2014
Lubin & Meyer Represents Family of Woman Overdosed as a Result of Faulty E-Health Records System
The Boston Globe
July 20, 2014

$16.7M Jury Verdict in
Lung Cancer Lawsuit
The Boston Globe
June 30, 2014
FOX25 News: Report Finds Abuse at Group Home, Disabled Man Found Bruised, Now Paralyzed
Fox25
June 23, 2014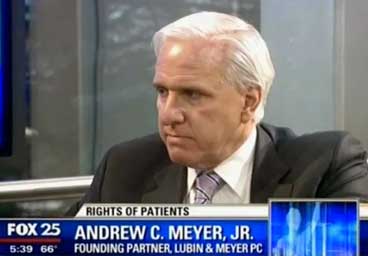 Drew Meyer on "Code of Silence" at Hospitals – Fertility Doc Accused of Abusing Patients Under Anesthesia
Fox25
May 2, 2014
Birth Injury Settlement is $4M: Related to Care Received at Brigham and Women's Hospital
2014 Trial Report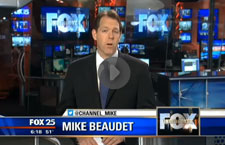 Major Settlement Prompts FDA Hearing on Banning Shock Therapy at Judge Rotenberg Center
FOX Undercover
April 23, 2014
Krysia Syska Profiled as a Top Woman Attorney in Massachusetts
Super Lawyers
April 2014

MGH Doctors Agree To Pay
$4.5M in Malpractice Case
The Boston Globe
April 15, 2014
$3M Settlement Reached in Bridgewater Hospital Death
The Boston Globe
March 26, 2014
Messier v. Bridgewater State Hospital: $3M Settlement
Medical Malpractice Trial Report
Jury Awards $4.8M to Family in Death of Patient
The Boston Globe
March 10, 2014

About the Firm | Attorneys | Verdicts & Settlements | Making A Difference | News & Resources | Contact Us | Site Map
© 2001- Lubin & Meyer PC. The innovative leader in medical malpractice and personal injury law.
100 City Hall Plaza, Boston, Massachusetts 02108. 617-720-4447 | 800-866-2889 | Directions

Attorneys licensed in Massachusetts (MA), New Hampshire (NH) and Rhode Island (RI)
View our NH site | View our RI site | View our Patient Safety Blog
Subscribe in a reader | RSS | Google+
ATTORNEY ADVERTISING:
This information is provided for informational purposes only and does not offer legal advice.
Use of this web site or e-mail does not establish an attorney-client relationship.
Past performance does not guarantee future results.