Medical Malpractice Law Firm Lubin & Meyer Featured on Cover of Best Lawyers New England
Cover story from Best Lawyers New England
Featured in the Boston Globe, April 2016
Click here to see the most recent New England's Best Lawyers news.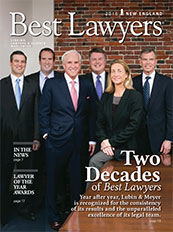 Lubin & Meyer partners were featured on the cover of the 2016 edition of Best Lawyers New England, an annual supplement to the Boston Globe and Wall Street Journal, as the regions leading medical malpractice and personal injury law firm.
The publication lists all New England attorneys who have been included in Best Lawyers®, the oldest and most highly-respected peer review guide to the legal profession.
Lubin & Meyer attorneys named in the most recent edition for either medical malpractice law, personal injury litigation, or both, include:
Two Decades of Best Lawyers
The publication's cover article, Two Decades of Best Lawyers, highlights Lubin & Meyer's leadership on patient safety issues, which has earned the firm recgonition nationwide.
One example given: Lubin & Meyer lawsuits are at the center of the controversy over the practice of a single surgeon double-booking or overlapping surgeries — used by surgeons at Massachusetts General Hospital and others — which was recently covered in an exposé by the Boston Globe's Spotlight Team.
The article quotes firm founder Andrew Meyer:
"Medical errors are one of the leading causes of death in this country, and as a firm, it is not only our mission to achieve maximum compensation for our clients, but also to ensure patient safety for the general public."

"Patients deserve a health care system where safety is a priority and errors are not just swept under the rug. By exposing the lack of quality treatment in these institutions, we have done our part to help create a safer environment for patients everywhere."
An Industry Leader in Medical Malpractice Plaintiffs Law
Lubin & Meyer regularly obtains many of the largest medical malpractice and personal injury verdicts in Massachusetts, New Hampshire and Rhode Island. Last year, the firm achieved an unprecedented 50 verdicts and settlements of $1 million dollars or more, as compiled and reported by Massachusetts Lawyers Weekly — including the largest verdict of the year in Massachusetts: $35.4 million on behalf of a woman paralyzed after childbirth.
Read the full article here: Two Decades of Best Lawyers
Return to Medical Malpractice Lawyer News index