Lubin & Meyer Ranked in Best Law Firms 2019 for Medical Malpractice and Personal Injury
U.S. News & World Report and Best Lawyers® Ranks Lubin & Meyer a "Tier One" Law Firm in Boston

December 21, 2018
[Update: See this year's news item at Best Law Firms Boston]
BOSTON, MA — U.S. News & World Report and Best Lawyers® has again ranked Lubin & Meyer PC as a "Tier One" law firm in its latest edition of Best Law Firms.
The rankings are in the areas of Medical Malpractice Law (Plaintiffs) and Personal Injury Litigation (Plaintiffs) for 2019. "Tier One" is the highest ranking a law firm can receive.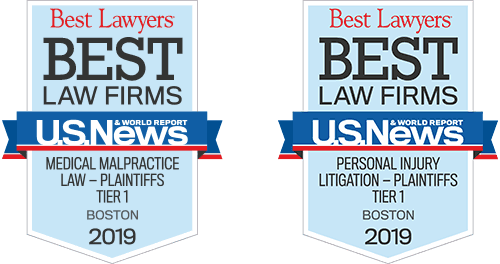 A perennial standout in the practice of medical malpractice and catastrophic personal injury law, in 2018, Lubin & Meyer achieved four multimillion dollar jury verdicts, including a rarely seen "gross neg­ligence" verdict. Each year the firm settles numerous $1 million+ cases — more than any other firm in the Commonwealth.
"Top Listed" by Best Lawyers in Boston and Massachusetts for Medical Malpractice Plaintiffs Law
In addition, the firm received two "Top Listed" awards from Best Lawyers® for 2019 for having the most attorneys listed in a single region. They are: Top Listed in Massachusetts - Medical Malpractice Law - Plaintiffs with four lawyers Top Listed in Boston - Medical Malpractice Law - Plaintiffs with four lawyers
Firms included on the "Best Law Firms" list are recognized for professional excellence with persistently impressive ratings from clients and peers.
To be eligible for a ranking, a firm must have a lawyer listed in The Best Lawyers in America, which recognizes the top 4 percent of practicing attorneys in the US. Lubin & Meyer has five attorneys named Best Lawyers® for 2019.
They include Andrew C. Meyer, Jr., the firm's founder, who has been selected for inclusion in the Best Lawyers list since 1995, in both personal injury and medical malpractice categories. Meyer previously has been selected by Best Lawyers as Boston's "Lawyer of the Year" for medical malpractice.
Additional Lubin & Meyer attorneys selected to the Best Lawyers list are:
Lubin & Meyer attorneys are licensed and practicing in Massachusetts, New Hampshire and Rhode Island.
For more information, please visit the firm's website at www.lubinandmeyer.com or call 800-866-2889 to speak with an attorney.
Return to Medical Malpractice Lawyer News index