Failure to Diagnose and Treat Cauda Equina Syndrome: $2.5 Million Settlement
2022 Medical Malpractice Case Settlement
Essex County Superior Court
By Attorney Robert M. Higgins

Failure by emergency room physicians to order imaging of back results in delay of surgery and before permanant injury
Case background
The plaintiff had a long history of back pain. In July 2016 she underwent an MRI which showed some disc disease at both L4-5 and L5-S1. There was also a large central disc extrusion slightly narrowing the thecal sac and impinging on the descending right S1 nerve root.
First doctor visit: symptoms of severe pain, numbness, bladder incontinence
On 8/12/16 at approximately 8:00 a.m., the plaintiff saw the defendant physiatrist in his office complaining of severe back and numbness down her right leg. The plaintiff also noted that she had 2 recent episodes of bladder incontinence. Despite these worrisome symptoms and recent episodes of bladder incontinence, the defendant diagnosed her with lumbar radiculopathy and scheduled her for steroid injections without any imaging.
Second visit, emergency room: More pain, numbness, incontinence
Later the same day, the plaintiff arrived at the emergency room via ambulance with severe back pain and numbness. She reported that she had another episode of urinary incontinence. The plaintiff was seen and examined by the defendant emergency room physician after about an hour in the ER. Plaintiff was noted to be in severe distress and was given IV pain medication. Over the next 2 hours she continued to be in severe pain and the defendant ordered more pain medication. Approximately 4 hours after arrival, the plaintiff was discharged home with a diagnosis of sciatica.
---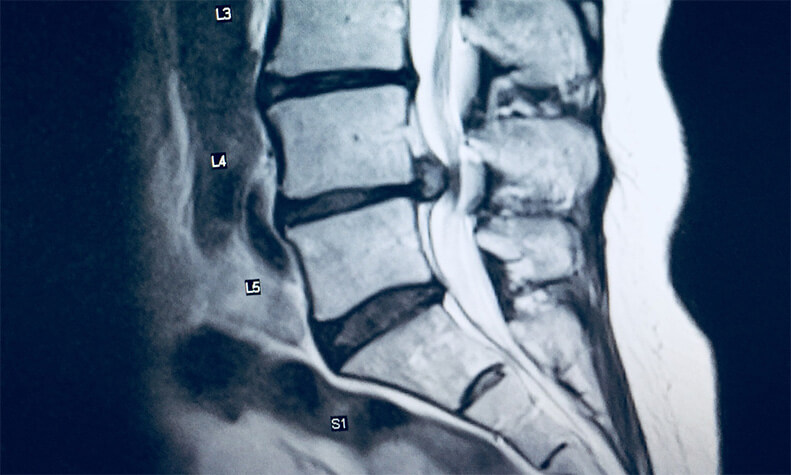 Learn more about this medical emergency spinal condition that if not diagnosed and treated in a timely manner can have permanent and debilitating neurological injuries on our Patient Safety Blog.
Sample of other recent failure to diagnose cauda equina medical malpractice cases:
---
Third visit, emergency room via ambulance: Imaging ordered, cauda equina diagnosed, emergency surgery performed
Five hours after being discharged the plaintiff returned again via ambulance to the emergency department in severe pain. The ER physician on this visit ordered an immediate MRI of her spine which showed large disc herniations pressing on the nerves in her lower back. The plaintiff was diagnosed with cauda equina syndrome. Neurosurgery was contacted and the plaintiff underwent emergency surgery to relieve the pressure on her nerves.
Permanent injuries require use of colostomy bag
After the surgery, the plaintiff was left with some difficulty walking along with bowel and bladder dysfunction. She was able to regain much of her ability to walk and her bladder function. She was given a colostomy bag for her to be able to have bowel movements.
Lawsuit claims negligence in failing to diagnose with imaging
The plaintiff retained experts who were of the opinion that both defendants were negligent in failing to get imaging of her back. Had that happened, the experts opined that the cauda equina syndrome would have been diagnosed and surgery would have been completed before she suffered permanent damage to the nerves that control her bowel movements.
The defendants denied they did anything wrong or that anything they did caused the plaintiff's injuries.
The case was settled for $2,500,000.00 after discovery was completed.
Lubin & Meyer attorney Robert M. Higgins represented the plaintiff in this medical malpractice lawsuit.
---
Questions about a delay in diagnosis or treatment of back pain, spinal injury?
Do you have questions about a possible medical malpractice lawsuit due to injuries or death caused by a delay in diagnosing and treating cauda equina syndrome or other neurological condition?
Contact Us - There is no fee or cost to you to have your case evaluated by our medical malpractice attorneys. Call 617-720-4447 to speak with an attorney today.
Lubin & Meyer PC - New England's Leader in Medical Malpractice and Personal Injury Law
Our medical malpractice lawyers are licensed to practice in: Massachusetts, New Hampshire and Rhode Island.
---
Return to: Verdicts & Settlements - medical malpractice case archive