Cauda Equina Malpractice Settlement Is $2 Million
2015 Medical Malpractice Trial Report
Delay in Diagnosis of Cauda Equina Syndrome Results in Chronic Urinary Retention and Weakness
The plaintiff was a 62 year old man who lived in a group home with a caregiver due to slight mental retardation. In July of 2011, the plaintiff presented to the emergency department of a tertiary acute care facility due to back pain that had worsened over the past 2-3 days and urinary urgency/incontinence. He had severe pain radiating down both of his lower extremities with numbness in the right foot. His pain was getting progressively worse and he was eventually unable to stand on his own. A neurological examination revealed 3/5 strength in his bilateral lower extremities and no saddle anesthesia. He had limited sphincter tone but there was muscular strength when he was asked to bear down. The plan was to rule out cauda equina syndrome. An MRI was completed, revealing findings concerning for spinal cord compression.
Later that morning, it was noted that the plaintiff's ROM was decreased to his bilateral lower extremities, but he was able to move his extremities when agitated on the stretcher. Based upon the MRI and physical exam findings, the defendants saw no acute surgical need and recommended that he continue to follow up that day as scheduled for his epidural injection. At 12:10 p.m., the plaintiff was discharged via EMS to a hospital across town that was not an acute care facility for a previously scheduled epidural injection.
At the 2nd hospital, the care providers realized that the patient's condition was consistent with cauda equina syndrome and initially scheduled him for surgery. However, the neurosurgeon discussed the case with the chief of neurosurgery and, because their facility was not an acute care facility and he had already been evaluated by the spine service at the first hospital across town, they decided to transfer the plaintiff back to the original hospital.
---
Read About Other Cauda Equina Lawsuits
Lubin & Meyer attorneys are experienced in successfully settling medical malpractice claims related to the failure to timely diagnose and treat this dangerous spinal condition.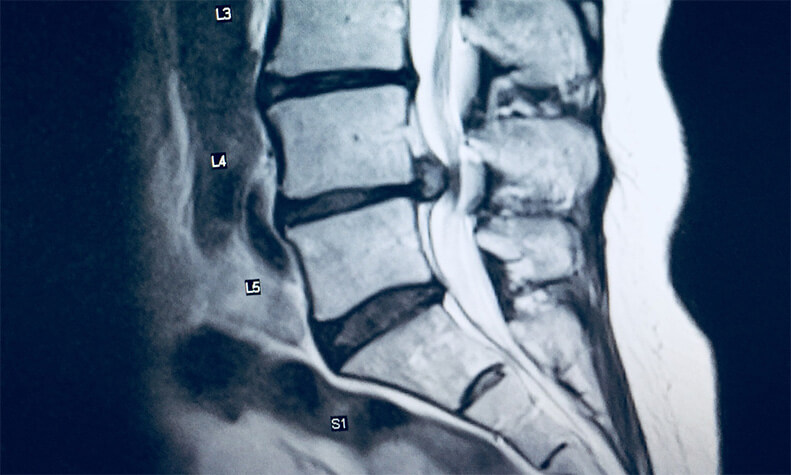 What is cauda equina syndrome?
Learn more on our Patient Safety Blog - Cauda Equina Syndrome: An Often Misdiagnosed Medical Emergency
---
After arriving back at the original hospital, it was noted that he could not walk. Nevertheless and despite a request for an orthopedic/spine re-consultation for clinical symptoms and signs of cauda equina syndrome, they refused to see him again given the last consult was only 12 hours ago and nothing had changed since that time. Consequently, he was admitted to Medicine for pain control, physical therapy and continued care.
The next morning, it was determined that his baseline condition was far different from his current condition and cauda equine syndrome was entertained and to perform an urgent decompressive laminectomy L3-5 with fusion. At 12:18 p.m., he was finally taken to the operating room for an L3-5 decompression laminectomy with foraminotomies.
Following decompression, the plaintiff was not able to return home for over a month. Unfortunately, he was left with chronic urinary retention and need for a wheelchair.
Lubin & Meyer attorneys Andrew C. Meyer, Jr. and Adam R. Satin represented the plaintiff in this lawsuit.
---
Questions about cauda equina syndrome?
Do you have questions about a possible medical malpractice case involving symptoms of back pain — spinal cord compression — and a failure to recognize and treat cauda equina syndrome?
Contact Us - There is no fee or cost to you to have your case evaluated by our qualified medical malpractice attorneys. Call 800-866-2889 to speak with an attorney today.
Lubin & Meyer PC - Boston's Innovative Leader in Medical Malpractice and Personal Injury Law
Our medical malpractice lawyers are licensed to practice in: Massachusetts, New Hampshire and Rhode Island.
---
Return to: Verdicts & Settlements - medical malpractice case archive