Meyer, Higgins and Thompson Selected Boston's Best Lawyers for 2010
Boston Globe Magazine - June 20, 2010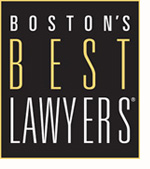 BOSTON, MA—Andrew C. Meyer, Jr., Robert M. Higgins and William J. Thompson of Boston law firm Lubin & Meyer, have been selected to Boston's Best Lawyers—a comprehensive guide to the city's top lawyers excerpted from the 2010 edition of Best Lawyers®, the oldest and most respected peer-review publication in the legal profession. The guide is published in the Boston Globe Magazine and on Boston.com.
Meyer was first named to Best Lawyers in America in 1995, and is selected under two practice areas: Medical Malpractice Law and Personal Injury Litigation. Higgins, has been named each year since 2008, and is selected in the category of Medical Malpractice Law. This year, Thompson joins their select company, named to Best Lawyers® 2010 under the practice area of Personal Injury Litigation.
The Boston's Best Lawyers guide includes an interesting article that provides examples of how medical malpractice and personal injury claims can be used to effect needed changes in medical care and other safety procedures. The article quotes Meyer,
"Litigation is really one of the only ways in Massachusetts that patients and consumers can be sure that whatever dangers exist in a particular area—either medicine or products—that those practices become safer," said Meyer. "In our practice we attempt to ensure that not only do our clients receive appropriate compensation but also that society is served by changing the practice of medicine as best we can—by educating doctors and getting hospitals and medical professionals to correct dangerous procedures."

See full article here: Tort Reform Transforming Lives.
Lubin & Meyer is located in Boston with attorneys licensed to practice in Massachusetts, New Hampshire and Rhode Island. The firm has been providing unparalleled legal representation to the victims of medical malpractice and their families for 35 years.
The Best Lawyers in America 2010 is published by Woodward/White, Inc., of Aiken, S.C.
Return to Medical Malpractice Lawyer News index