Can Tort Cases Transform Lives?
By Robyn A. Friedman, Boston's Best Lawyers
Supplement to Boston Sunday Globe - June 20, 2010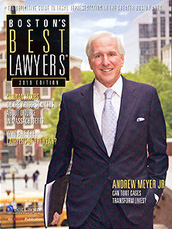 Do you ever wonder what happens after a major medical malpractice or product liability case is decided? If victorious, an aggrieved plaintiff may receive monetary compensation. But sometimes a case has far-reaching consequences that extend past the immediate litigants — and may even affect you.
Andrew C. Meyer, Jr. knows this firsthand. Meyer, a founding partner of Lubin & Meyer PC in Boston, has been involved in many cases with record-setting verdicts, including one of the largest personal injury awards in Massachusetts history. But when you speak with him, Meyer doesn't tout his monetary accomplishments in the courtroom; instead, he's most proud of how he's not only transformed the lives of the individuals and families he's represented, but also helped to protect others by enhancing the quality of medical care in the community.
"Unfortunately, in this day and age, we often know more about our toasters and refrigerators than we do about our doctors and hospitals."
— Andrew Meyer Jr.
"Litigation is really one of the only ways in Massachusetts that patients and consumers can be sure that whatever dangers exist in a particular area — either medicine or products — that those practices become safer," said Meyer.
"In our practice we attempt to ensure that not only do our clients receive appropriate compensation but also that society is served by changing the practice of medicine as best we can — by educating doctors and getting hospitals and medical professionals to correct dangerous procedures."
Here are some of the cases that Meyer has been involved with that have made a difference in the way medicine is practiced in Massachusetts:
• New hospital procedure implemented: An elderly woman went in for a routine hip replacement. The surgery was successful, but as she was being moved from the surgical table to the gurney, the woman fell to the floor and sustained a head injury. After brain surgery, she died. Part of the settlement involved an agreement with the hospital that it would adopt a procedure called "steps to exit," to ensure that when a patient is being transferred, appropriate protection and coordination is undertaken, including seat belts to secure the patient.

• New safety locks installed: Meyer won a $6.1 million verdict in a case involving a bus accident at a golf tournament. The victim was on a bus, riding back to his car in the parking lot, when a gate swung open in the lot, piercing the bus and severing the leg of the victim. He later died. A result of that case: The stadium installed locks on its parking gates to properly secure them and prevent similar accidents.

• Training programs implemented: A 40-year-old woman undergoing treatment for cancer developed an infection that led to her death, resulting in a $13.5 million verdict. As a result of that case, the facility instituted training programs, created a lecture series in the name of the victim to improve the treatment of the disease with which she was afflicted and also dedicated an area in a new hospital wing to her.

• New policies, new technology, retraining of staff: A seven-year-old boy in the hospital for an appendectomy received an intravenous saline solution meant for an adult. Although alarms went off on the computer to alert hospital personnel that a mistake was made, they were overridden. The child subsequently died. In addition to compensating the family, the hospital agreed to retrain those involved, changed its policies so that alarms could not be countermanded and improved training. The hospital also dedicated a room to the boy who lost his life that stands as a memorial to him.
One pending case that Meyer is handling involves a woman who went to a national surgical center to have a one-hour facial firming procedure under local anesthesia. Instead of refreshing the appearance of the 49-year-old mother of three, the procedure left her brain dead. Meyer represents the decedent's family, which filed suit. "We're hopeful that not only will the family be compensated for this horribly shocking and tragic event, but that practices will be employed which will prevent this from happening in the future to others."
For those who need to seek medical care, Meyer has the following advice: "Unfortunately, in this day and age, we often know more about our toasters and refrigerators than we do about our doctors and hospitals. Do research, investigate and ask a lot of questions. Don't be intimidated — be an aggressive consumer."
Return to Medical Malpractice Lawyer News index