Lubin & Meyer Receives Best Law Firms Rankings in Medical Malpractice and Personal Injury Litigation
U.S. News & World Report and Best Lawyers® Ranks Lubin & Meyer a "Tier One" Law Firm in Boston

January 10, 2018
[Update: See this year's news item at Best Law Firms Boston]
BOSTON, MA—Lubin & Meyer PC has again received two "Tier One" Best Law Firms rankings from U.S. News & World Report and Best Lawyers®.
The rankings are in the areas of Medical Malpractice Law (Plaintiffs) and Personal Injury Litigation (Plaintiffs) for 2018. "Tier One" is the highest ranking a law firm can receive.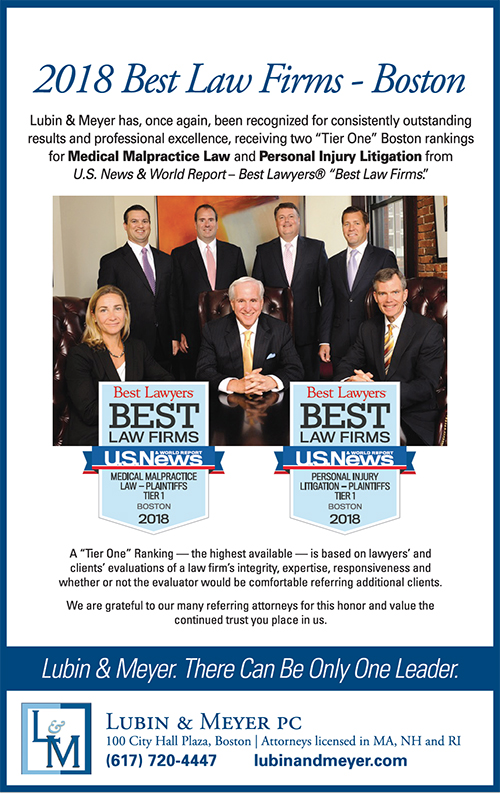 Firms included on the "Best Law Firms" list are recognized for professional excellence with persistently impressive ratings from clients and peers.
To be eligible for a ranking, a firm must have a lawyer listed in The Best Lawyers in America, which recognizes the top 4 percent of practicing attorneys in the US. Lubin & Meyer has five attorneys named Best Lawyers® for 2018.
They include Andrew C. Meyer, Jr., the firm's founder, who has been selected for inclusion in the Best Lawyers list since 1995, in both personal injury and medical malpractice categories. Meyer previously has been selected by Best Lawyers as Boston's "Lawyer of the Year" for medical malpractice.
Additional Lubin & Meyer attorneys selected to the Best Lawyers list are:
Recognized throughout the Commonwealth as the most successful medical malpractice law firm, Lubin & Meyer is committed to reducing the medical risks faced by patients. The firm's work has brought about necessary and lifesaving changes in many major hospitals.
According to Attorney Meyer, "What sets us apart is what we're able to accomplish for our clients. We provide the accountability our clients search for, the compensation they deserve, and the assurance that the medical error they suffered will not be swept under the rug."
Lubin & Meyer attorneys are licensed and practicing in Massachusetts, New Hampshire and Rhode Island.
For more information, please visit the firm's website at www.lubinandmeyer.com or call 800-866-2889 to speak with an attorney.
Return to Medical Malpractice Lawyer News index