Lubin & Meyer Selected To New England's Best Lawyers®
Five attorneys at Lubin & Meyer recognized by Best Lawyers New England for plaintiffs medical malpractice and personal injury law
Best Lawyers® / Boston Globe - April 15, 2018
(Go to the most recent New England's Best Lawyers news.)
BOSTON, MA—Five trial attorneys at Lubin & Meyer PC have been selected for inclusion in New England's Best Lawyers® 2018 Edition, a guide to the region's top lawyers based on a vote of their peers.
They are: Andrew C. Meyer, Jr., Robert Higgins, Krysia Syska, William Thompson and Adam Satin.
What Sets a Law Firm Apart?
At Lubin & Meyer, the answer is clear: Results. No other plaintiffs' medical malpractice law firm in Massachusetts comes close in the number of million-dollar-plus verdicts and settlements achieved for its injured clients. Last year that number was 38 — more than seven times as many as any other firm in the Commonwealth — and the tenth year in a row Lubin & Meyer outpaced all other firms in the Massachusetts.
However, numbers alone do not define this powerhouse law firm and its lawyers. Results are also measured by the many lives they've rebuilt; the critical and lifesaving changes they've made to the practice of medicine; and the medical institutions and systems they hold accountable.
---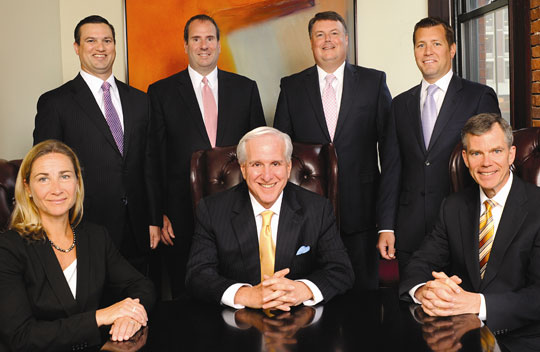 "An important part of our firm's mission is exposing dangerous practices and working to hold medical professionals and institutions accountable for their mistakes. Overwhelmingly, our injured clients' lawsuits are motivated by their desire to keep a similar tragedy from happening to another family."
— Founding Partner Andrew C. Meyer Jr.


---
What Accountability Looks Like
Some of the firm's significant results include:
We Will Review Your Case for Free
Lubin & Meyer represents plaintiffs — individuals and families — in Massachusetts, New Hampshire and Rhode Island.
Request a free case evaluation to have your claim evaluated at no cost by our experienced medical malpractice and injury lawyers.
Return to Medical Malpractice Lawyer News index