Best Lawyers® Honors Five Partners at Lubin & Meyer
Listed in the 2020 Edition for Personal Injury Litigation and Medical Malpractice Law
August 20, 2019
(Click to view firm's most recent Best Lawyers Boston honors.)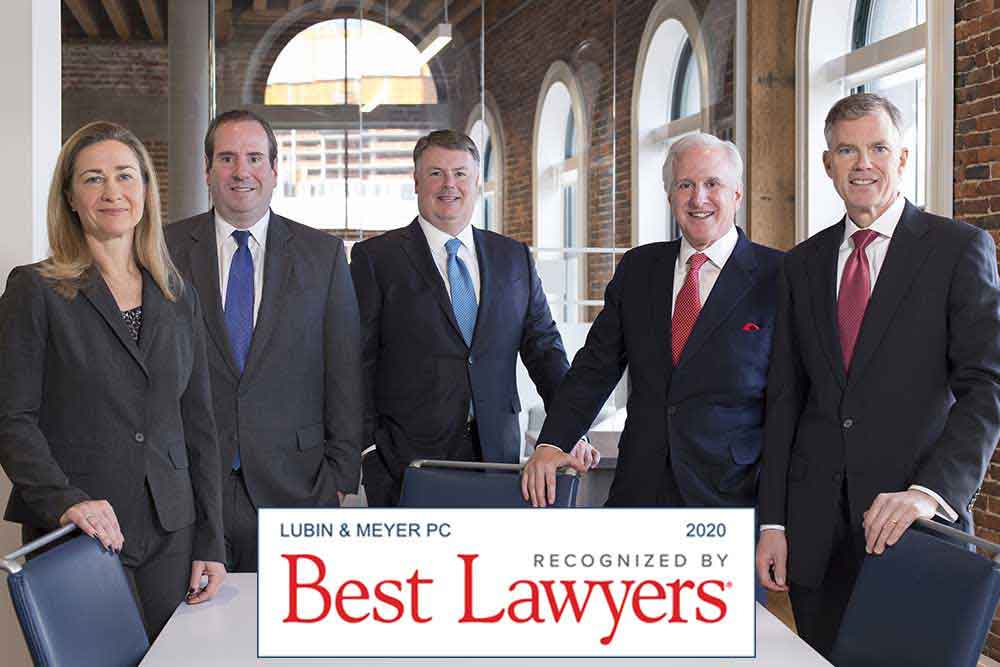 Included in the 2020 Edition of The Best Lawyers in America® (from left): Krysia Syska (9 years), Adam Satin (9 years), Robert Higgins (13 years), Andrew Meyer (26 years) and William Thompson (11 years).
---
BOSTON, MA — Lubin & Meyer PC one of the country's most prominent medical malpractice and catastrophic personal injury law firms, is pleased to announce that five of the firm's partners have been included in the latest edition of The Best Lawyers in America®. They are as follows.
Medical Malpractice Law - Plaintiffs
Andrew C. Meyer, Jr.
Robert M. Higgins
Krysia J. Syska
Adam Satin
Personal Injury Litigation - Plaintiffs
Andrew C. Meyer, Jr.
William J. Thompson
Attorneys named to The Best Lawyers in America are recognized by their peers in the legal industry for their professional excellence.
Lubin & Meyer represents individuals and families in Massachusetts, New Hampshire and Rhode Island who have suffered serious injuries as a result of negligence including medical errors, delays in diagnosis and misdiagnosis of an illness.
The Leader in Medical Malpractice and Personal Injury Law
In the first half of 2019, Lubin & Meyer achieved two multimillion dollar jury verdicts — $11.5 million for a radiologist's negligence and $10.7 million for a surgical error — on a pace to match the record-setting four jury verdicts the firm obtained in 2018. Lubin & Meyer consistently surpasses all other firms in the Commonwealth by achieving more "million-plus" verdicts and settlements as compiled and published annually by Massachusetts Lawyers Weekly.
Best Lawyers has published its peer-review list for more than three decades, earning a reputation as the most reliable, unbiased source of legal referrals.
For more information, please visit the firm's website at www.lubinandmeyer.com or call 617-720-4447 to speak with an attorney.
Return to Medical Malpractice Lawyer News index