Failure To Diagnose Lung Cancer: $1 Million Settlement
2012 Medical Malpractice Settlement Report
Lawsuit claims woman's lung cancer detection was delayed by 1 year
On 9/15/08, the plaintiff presented to her primary care physician with complaints of a persistent cough and recent history of coughing up blood. The PCP ordered a chest x-ray which was read and interpreted by the defendant radiologist as normal.
One year later, on 9/4/09, the plaintiff presented to the emergency department with complaints of shortness of breath, chest pressure and palpitations. The plaintiff underwent a chest x-ray that same day which revealed a mass in her right lower chest for which a CT scan was recommended by the radiologist. On 9/14/09, the plaintiff's CT scan of her chest confirmed the presence of a 2.7 x 2.2 cm poorly marginated mass lesion in her right lower lobe, consistent with a primary lung cancer and spread to her lymph nodes.
---
Learn more: How To Determine Medical Malpractice in Cancer Cases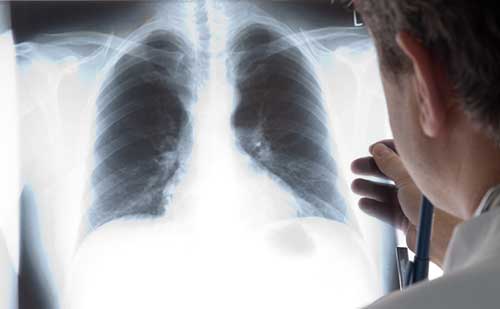 Other recent lawsuits:
$16.7M Verdict: 47-year-old woman dies from delay in diagnosis of lung cancer at Brigham and Women's Hospital
$1.2M Settlement: Radiologist's failure to identify and report lung mass delayed diagnosis and treament of women's stage IV lung cancer
$1.5 Settlement: Failure to address cough and order chest x-ray leads to delay in lung cancer diagnosis
See more cancer verdicts and settlements
---
On 10/30/09, the plaintiff underwent a flexible bronchoscopy, right diagnostic thoracoscopy with conversion to a right minor thoractomy, right lower lobe lobectomy, and a mediastinal lymph node dissection. The pathology of the right lower lobe lung revealed infiltrating poorly differentiated cancer with 7/15 nodes positive for metastasis.
The plaintiff was diagnosed with Stage IIIa non-small cell lung cancer. The plaintiff was told by her oncologist that she has approximately a 25% chance of long term disease-free survival with treatment.
The plaintiff underwent chemotherapy and radiation and had no recurrence at the time of the settlement.
The plaintiff was prepared to offer an expert opinion from a radiologist that the plaintiff had a lung mass present on her 9/15/08 chest x-ray that the defendant failed to report. The plaintiff was also prepared to offer testimony that her prognosis was significantly worsened due to the year delay in diagnosis.
The case settled for $1,000,000 which was the extent of the defendant's insurance coverage.
Medical malpractice attorneys for the plaintiff: Andrew C. Meyer and Robert M. Higgins, Lubin & Meyer, P.C.
Massachusetts: Bristol Superior Court
---
Do you have questions about lung cancer and medical malpractice?
Do you have questions about a possible delay in the detection of lung cancer?
Contact Us - There is no fee or cost to you to have your case evaluated by our qualified medical malpractice attorneys. Call 800-866-2889 to speak with an attorney today.
Lubin & Meyer PC - Boston's Innovative Leader in Medical Malpractice and Personal Injury Law
Our medical malpractice lawyers are licensed to practice in: Massachusetts, New Hampshire and Rhode Island.
---
Return to: Verdicts & Settlements case archive