Failure To Diagnose Colorectal Cancer: $4.5M Settlement
2015 Medical Malpractice Trial Report
Failure of primary care physician to refer 42-year-old patient complaining of rectal bleeding leads to delay in diagnosis of colon cancer
On 3/28/08, the plaintiff was 42 years old when he went to the defendant, his primary care physician, for a routine physical exam. He reported rectal bleeding when wiping himself for 2 weeks. The defendant performed a rectal exam which was described as normal. The defendant also performed a limited internal exam of the rectum and found a small internal hemorrhoid. The defendant attributed the rectal bleeding to the hemorrhoid and prescribed Anusol and Metamucil. There was no referral to a specialist for a colonoscopy.
On 10/7/09, the plaintiff was again seen by the defendant with complaints of rectal bleeding. He also told the defendant that he had been suffering from constipation for past 10 days, rectal burning, and abdominal pain. The defendant indicated that she thought it was the hemorrhoid causing the bleeding and burning. She indicated that the plaintiff should change his diet to deal with his constipation. No follow up appointment was scheduled and no referral was made to a gastroenterologist for a colonoscopy.
---
See more information about delayed diagnosis of colorectal cancer and screening guidelines for colon cancer.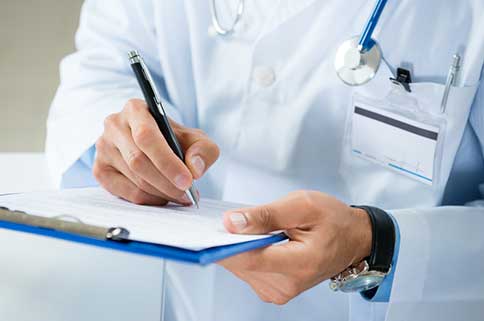 Questions About Your Colon Cancer Diagnosis?
Failure To Screen for Colon Cancer?
Our Colon Cancer Lawyers may be able to help you. We practice in Massachusetts, New Hampshire and Rhode Island.
---
On 12/6/10, the plaintiff made an appointment himself with a gastroenterologist because of continued bleeding, abdominal pain and constipation. A colonoscopy was immediately ordered to rule out colon cancer. It showed a 5 cm. ulcerated rectal mass which was determined to be cancer. The cancer spread through the muscle and around the rectal lymph nodes. The plaintiff underwent chemotherapy and surgery and was well until the end of 2013 when a cancerous tumor was found in his lung. It was surgically removed but was found to be spread from his colon cancer. The plaintiff is now Stage IV and will almost certainly die from his colon cancer.
The plaintiff expected to call to trial an expert who was of the opinion that the defendant was negligent in her care and treatment when she failed to send the plaintiff to a specialist for a colonoscopy when he complained of rectal bleeding in 2008 and rectal bleeding and burning and constipation in 2009. It was the expert's opinion that the plaintiff's cancer was most likely curable in 2008 and 2009.
The defendant was expected to present expert testimony that the plaintiff's symptoms were able to be explained by hemorrhoids and diet. The defendant's expert was also expected to testify that the plaintiff was told to come back if the symptoms continued and he did not return.
The case settled for $4,500,000.00 after mediation.
Lubin & Meyer attorneys Andrew C. Meyer, Jr. and Robert Higgins represented the plaintiff in this lawsuit.
---
Questions about a failure to diagnose cancer?
Do you have questions about a possible medical malpractice lawsuit due to a delay to diagnose or a failure to diagnose colorectal cancer. Let an experienced attorney evaluate the facts of your case.
Contact Us - There is no fee or cost to you to have your case evaluated by our colon cancer lawyers. Call 800-866-2889 to speak with us now.
Lubin & Meyer PC - Boston's Innovative Leader in Medical Malpractice and Personal Injury Law
Our medical malpractice lawyers are licensed to practice in: Massachusetts, New Hampshire and Rhode Island.
---
Return to: Verdicts & Settlements - medical malpractice case archive