Attorney Andrew C. Meyer, Jr. Named One of Boston Magazine's Most Influential Bostonians
BOSTON — Founding partner, Andrew C. Meyer, Jr., has been selected to Boston magazine's coveted "The 150 Most Influential Bostonians" list as featured in its May 2023 issue.
Compiled by the magazine's editorial team, the list, according to Editor in Chief Chris Vogel, "celebrates the leaders, pioneers, and guiding lights who are forging the city's future in business, politics, philanthropy, social justice, and many other areas of civic importance."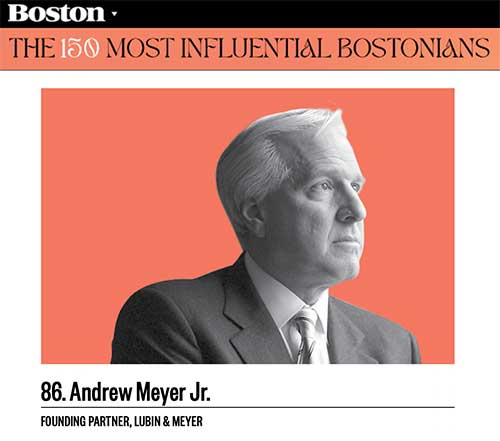 ---
Meyer's recognition reads:
"In a city where medical institutions rule the roost, Meyer's name is one of the few that make healthcare CEOs quake in their boots. Armed with a mission to help victims of medical malpractice, he and his team of attorneys procured 34 settlements of $1 million or more last year alone, by far the most in the region—and already won a $20 million verdict against Lowell General this year."
---
Borne from his successful legal practice representing clients in medical malpractice and personal injury litigation, Attorney Meyer has become an outspoken advocate for the patient in Boston's healthcare machine.
While Attorney Meyer's multi-million-dollar verdicts and settlements have set legal precedents and made headlines for over 40 years, it's the positive effect his work has had on so many lives across the Commonwealth, that is his most enduring legacy.
Attorney Meyer's extraordinary impact can be measured by the many lives his advocacy has rebuilt, the lifesaving changes he has brought to the practice of medicine, the public safety initiatives he has inspired and the practitioners, institutions and systems he has held accountable.
By demonstrating exceptional leadership and an unwavering commitment to excellence, Attorney Meyer's work on behalf of his injured clients raises the bar for all practitioners, and is a testament to the influence that one person can have on our community and beyond.
Lubin & Meyer represents individuals and families in Massachusetts, New Hampshire and Rhode Island.