Andrew Meyer and Robert Higgins Selected Boston's Best Lawyers
Boston Globe Magazine - July 27, 2008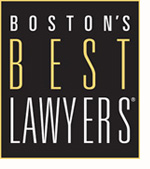 BOSTON, MA—Two attorneys from Lubin & Meyer PC, Andrew C. Meyer, Jr. and Robert M. Higgins have been named Boston's Best Lawyers as published in the Boston Globe Magazine. Boston's Best Lawyers 2008 Edition is a comprehensive guide to the city's top lawyers excerpted from the 2008 edition of The Best Lawyers in America®, the preeminent referral guide to the legal profession in the United States.
Attorneys are selected to the Best Lawyers guide through a confidential nomination and voting process by top lawyers evaluating their professional peers. Meyer and Higgins are selected under the specialty of medical malpractice law. For more on the selection methodology, view the BestLawyers.com web site.
The Boston's Best Lawyers guide is published in the Boston Globe Magazine and on Boston.com. Click on the black logo to access the guide online.
The Best Lawyers in America 2008 (Copyright 2007) is published by Woodward/White, Inc., of Aiken, S.C.
---
Questions about medical malpractice?
Do you have questions about a possible medical malpractice claim?
Contact Us - There is no fee or cost to you to have your case evaluated by our qualified medical malpractice attorneys. Call 800-866-2889 to speak with an attorney today.
Lubin & Meyer PC - Boston's Innovative Leader in Medical Malpractice and Personal Injury Law
Our medical malpractice lawyers are licensed to practice in:
Massachusetts, New Hampshire and Rhode Island.
---
Return to Medical Malpractice Lawyer News index