Personal Injury Lawsuit Filed on Behalf of Woman Hurt by Falling Metal Railing in Boston
Pedestrian suffers permanent injuries, skull fractures, due to unsafe construction zone
November 7, 2019 — Lubin & Meyer personal injury lawyer William Thompson filed a negligence lawsuit yesterday on behalf of a Charlestown woman who suffered a broken skull and other injuries when a metal railing fell on her from above. Kimberly Frawley, 36, was walking with her 38-year-old husband and their dog on the morning of July 25 this summer when her life changed forever. The lawsuit claims the construction contractor preparing to replace the roof of 85 Atlantic Avenue in Boston's North End was negligent in securing a safe work area.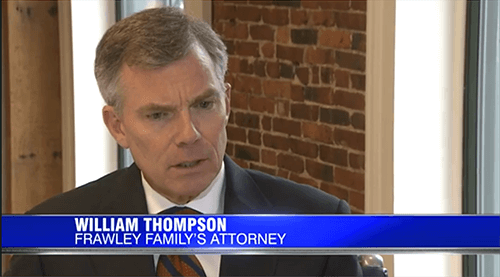 Attorney William J. Thompson is representing Kimberly Frawley and her husband.
---
Personal Injury Lawsuit Filed in Suffolk Superior Court
In a television interview with WHDH 7NEWS Boston, Attorney Thompson discussed the basics of the civil lawsuit filed in Suffolk Superior Court. The negligence lawsuit blames Corolla Contracting Inc. for permanent injuries and not following basic safety measures.
---

"Kimberly has had a very difficult road as you can imagine. She has had to deal with skull fractures, facial fractures, fractures to her neck, which required multiple surgeries. The clients really want some accountability, to make sure that something like this doesn't happen to anybody else.

Mr. and Mrs. Frawley are the ones who were injured and face a very difficult future, but anybody walking by was subject to being injured by these contractors not following basic safety precautions."

— Personal Injury Attorney William Thompson



---
Video news report: Boston personal injury lawyer William Thompson, of Lubin & Meyer PC, describes the injuries and basis of the lawsuit filed on behalf of his client in this 7NEWS coverage.
---
Related News Coverage
Woman hit by metal railing in North End suing contractor
Boston Herald, November 6, 2019
Woman hit by falling metal railing in North End files negligence lawsuit against roofing contractor
The Boston Globe, November 7, 2019
Woman Hurt By Falling Metal Railing In North End Sues Construction Company
WBZ4 CBS Boston, November 7, 2019
Woman struck by falling railing in North End sues contractor
WCVB5 ABC, November 7, 2019
Roofer's Negligence Caused Skull-Crushing Injury, Suit Says
Law360, November 7, 2019
Background on the Accident
This high-profile accident received a lot of media attention when it happened in July of 2019. Below is some of the coverage at the time the orginal injuries were sustained.
Woman Hit by Falling Railing in Boston, Suffers Life-Threatening Injuries
NBC10 Boston, July 25, 2019
'Just terrible, terrible luck': Woman is in critical condition after being struck by falling railing
The Boston Globe, July 25, 2019
Woman critically injured after railing falls from roof in Boston's North End
Boston Herald, July 25, 2019
---
Questions about a serious injury due to negligence?
If you have questions about a possible personal injury claim, Lubin & Meyer can review your case for free.
Contact Us - There is no fee or cost to you to have your case evaluated by our personal injury lawyers. Call 617-720-4447 to speak with an attorney today.
Lubin & Meyer PC - Boston's Innovative Leader in Medical Malpractice and Personal Injury Law.
Our medical malpractice lawyers are licensed to practice in:
Massachusetts, New Hampshire and Rhode Island.
---
Return to: Attorneys in the News