Boston Children's Hospital Agrees to Record-setting $15 Million Settlement for Death of Infant Undergoing Sleep Study
Parents of Jackson Kekula refuse non-disclosure agreement in order to share their story and create change
Updated May 8, 2023
Lubin & Meyer medical malpractice attorney Robert M. Higgins representing the parents of a 6-month old child with achondroplasia, a condition that causes Dwarfism, negotiated a $15 million settlement after the baby suffered a traumatic brain injury and died from a sleep study at Boston Children's Hospital in 2022. During the sleep study, the hospital's sleep technicians failed to properly monitor the child, focusing instead on a perceived equipment malfunction rather than checking the baby's breathing and heartbeat.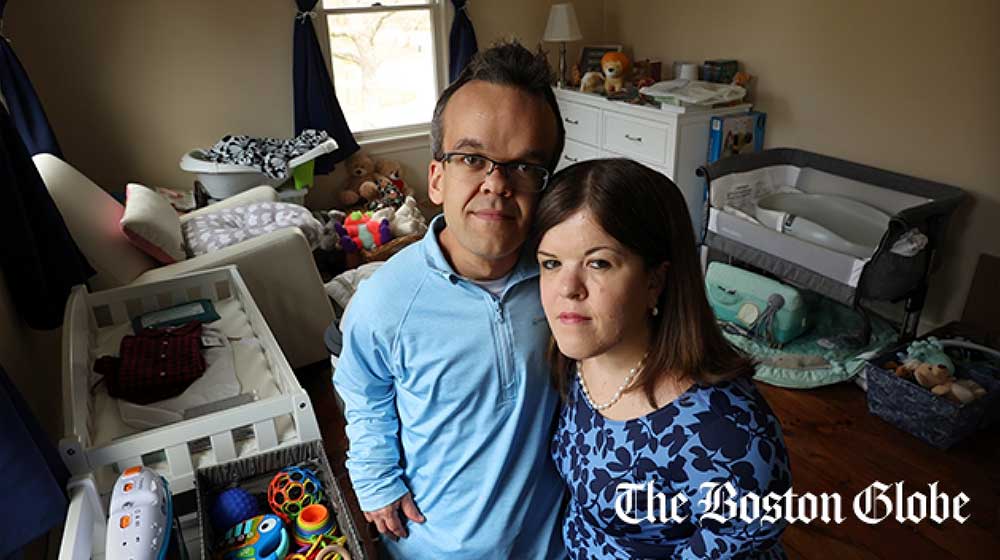 Boston Children's Hospital pays $15 million after child dies during sleep study
Jackson Kekula was 6 months old when he died last year after a devastating series of errors by Children's staff
By Jessica Bartlett, Boston Sunday Globe, April 29, 2023
---
Ryan and Becky Kekula contacted Attorney Higgins the day after their son's death, and Higgins sent the hospital a notice letter of a potential medical malpractice/wrongful death claim. No lawsuit was ever filed, as the hospital agreed to a settlement within several months of receiving Higgins' letter — a $15 million record-setting payment for a medical malpractice settlement in Massachusetts. The Kekulas refused to sign a non-disclosure agreement as the couple wanted to be free to share their story to spread awareness and to help create change.
As a result of Jackson Kekula's death, an investigation by the Department of Public Health was ordered and Boston Children's Hospital immediately suspended inpatient and outpatient sleep studies.
The tragic details about the Kekulas ordeal was first reported in The Boston Globe. This compelling story has since been picked up by regional, national and international news outlets. Some of those articles are linked below.
Boston Globe medical reporter Jessica Bartlett reveals details of a tragic fatal incident at Boston Children's Hospital. May 3, 2023
---
Medical Malpractice Case Summary
By Robert M. Higgins, Attorney for the plaintiff
Death of 6-Month-Old Child During Sleep Study
Est. of Jackson Kekula v. Boston Children's Hospital
Settlement reached before filing lawsuit
April 2023
Jackson Kekula was born on 8/9/21. He failed his car seat test prior to being discharged home as he had apneic episodes while sitting in the car seat. He was sent home in a car bed to be used while traveling until he passed his car seat test.
On 2/18/22, at 6 months, Jackson and his parents arrived around 7:00 p.m. to Boston Children's Hospital to undergo another car seat sleep study. By 9:35 p.m., Jackson had fallen asleep on the bed and was moved to his car seat at 9:40. Jackson's brain activity, heart rate, respirations and oxygen saturations were all monitored during the study by monitors placed on various parts of his body.
By 9:48 p.m., Jackson's oxygen saturations had dropped into the low 80's and by 9:50 p.m. they were in the 70's. His heart rate had dropped down into the 40's and his brain activity started to show abnormalities from a lack of oxygen. The providers recognized the abnormalities in his vital signs but attributed them to malfunctioning machinery. Over the next 30 minutes, as Jackson's breathing was abnormal and he was not receiving proper oxygen, the technologists proceed to adjust his oxygen saturation monitoring and unplug and plug in the machine repeatedly. Neither technologist ever checked Jackson.
Finally, around 10:25 Jackson is removed from his car seat and the technologists attempt to arouse him. It was realized that Jackson was in cardiac arrest and CPR was quickly started. The code team spent the next 20-30 minutes attempting to revive Jackson and eventually they were able to get his heart started again. Jackson was then transported to the ICU on life support. An MRI the next day showed that Jackson had suffered devastating and irreversible brain damage from lack of oxygen.
After extensive discussions with physicians, Jackson's parents decided to remove life support after 12 days and Jackson died in his mother's arms on 3/2/22.
The plaintiffs retained expert witnesses who provided opinions that the technologists were negligent in failing to recognize that Jackson's vistal sign abnormalities were apneic episodes for which he needed to immediately be removed from his car seat. Had that occurred once he had difficulties with his breathing, he would not have suffered a cardiac arrest or his brain injury.
The parties mediated the claim and the case was settled for $15,000,000 shortly after mediation and before the lawsuit was filed.
Lubin & Meyer attorneys Robert M. Higgins and Andrew C. Meyer, Jr. represented the plaintiff in this case.
---
Related News Coverage
Boston Children's Hospital pays $15M to Massachusetts couple whose son died after sleep study
WCVB-TV Channel 5 Boston, April 30, 2023

Boston Children's Hospital pays $15M to couple whose son died after sleep study
WBZ-TV CBS News Boston, May 1, 2023
'Deepest condolences': Boston Children's Hospital settles with family of baby who died during study
Boston 25 News, May 2, 2023
Parents of newborn with dwarfism who died after a sleep study at Boston Hospital awarded $15M
Daily Mail, May 2, 2023
Boston Children's Hospital pays $15 million settlement for baby's sleep-study death
USA Today, May 2, 2023
Couple Wins $15 Million Settlement After Son, 6 Months, Dies During Sleep Study at Boston Children's Hospital
People, May 2, 2023
Parents of baby who died during routine sleep study get a $15M payout from Boston hospital
New York Post, May 2, 2023
Parents awarded $15m after son with dwarfism dies in Boston hospital sleep study
The Independent, May 2, 12023
Baby Dies During Sleep Study While Sleep Techs 'Troubleshoot the Machines'
Sleep Review, May 8, 2023
---
Questions about a medical malpractice claim?
If you have questions about a medical malpractice claim, Lubin & Meyer can review your case for free.
Contact Us - There is no fee or cost to you to have your case evaluated by our medical malpractice lawyers. Call 617-720-4447 to speak with an attorney today.
Lubin & Meyer PC - Boston's Innovative Leader in Medical Malpractice and Personal Injury Law.
Our medical malpractice lawyers are licensed to practice in:
Massachusetts, New Hampshire and Rhode Island.
---
Return to: Attorneys in the News