Meyer, Higgins and Thompson Selected Boston's Best Lawyers for 2011
Best Lawyers® - June 28, 2011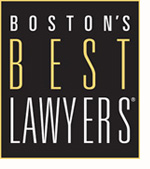 BOSTON, MA—Medical malpractice and personal injury attorneys Andrew C. Meyer, Jr., Robert M. Higgins and William J. Thompson of Boston law firm Lubin & Meyer, have been selected to Boston's Best Lawyers—a comprehensive guide to the city's top lawyers excerpted from the 2011 edition of Best Lawyers®, the oldest and most respected peer-review publication in the legal profession.
Meyer was first named to Best Lawyers in America in 1995, and is selected under two practice areas: Medical Malpractice Law and Personal Injury Litigation. Higgins, has been named each year since 2008, and is selected in the category of Medical Malpractice Law. Thompson has been named to Best Lawyers® under the practice area of Personal Injury Litigation for two years in a row.
The Boston's Best Lawyers guide includes an article that describes how Andrew C. Meyer, Jr. pioneered the area of medical malpractice law taking on hospitals and the medical profession as an advocate for patient safety and using courts to not only compensate his clients for medical injuries, but to improve the system as a whole.
"Poor medicine is not limited simply to one socioeconomic level. We represent doctors, nurses, and corporate leaders, as well as blue collar workers. What we do affects all of us as medical consumers."

See full article here: Andrew C. Meyer, Jr.- Attorney As Patient Advocate.
Founded in 1974, Lubin & Meyer is known across the country for its commitment to quality and excellence in the preparation and trial of suits on behalf of injured victims. Today, a multidisciplinary team of 12 lawyers, 4 nurses, paralegals and assistants comprise Lubin & Meyer. Attorneys are licensed to practice in Massachusetts, New Hampshire and Rhode Island.
The Best Lawyers in America 2011 is published by Woodward/White, Inc., of Aiken, S.C.
Return to Medical Malpractice Lawyer News index