Adam R. Satin — "Lawyer of the Year"
Boston Attorney Wins Three Consecutive Medical Malpractice Trials and One Appellate Victory in 2018 — Including a Rare "Gross Negligence" Result
January 21, 2019 - Mass. Lawyers Weekly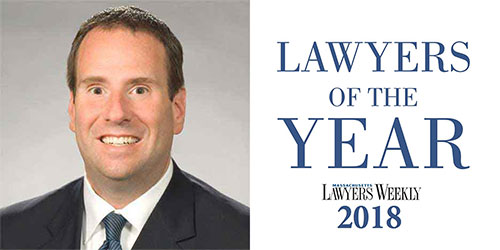 Adam R. Satin, trial attorney for personal injury law firm Lubin & Meyer PC, has been selected by Massachusetts Lawyers Weekly editorial staff as a "Lawyer for the Year" for 2018.
Satin, whose practice is focused on medical malpractice and general liability litigation and appellate issues, drew recognition from his peers this past year for an especially impressive series of courtroom successes.
Within the first seven months of 2018, he won three consecutive medical malpractice trials:
$6.8 Million Verdict for family in wrongful death case against Low­ell General doctor involving delay in diagnosis of kidney cancer. (February, 2018)

$6 Million Verdict for family of wom­an who died following hernia surgery at Winchester Hospital, which included a rare finding of "gross negligence." (May, 2018)

$3.2 Million Verdict for family of MGH patient for doctor's failure to inform patient of all treatment options following abnormal biopsy result. (July, 2018)
Satin also successfully defended on appeal the jury verdict in Larkin v. Dedham Medical Associates, Inc., 93 Mass. App. Ct. 661 (2018) in which he defeated the claim of a physician's practice group that it was entitled to a $20,000.00 cap on damages due to its "charitable" status, leading to the judgment in excess of $33 million being affirmed.
Appellate Court Win: $43.36 million jury verdict in stroke case affirmed on appeal, triggering payment under "high-low" agreement (July 31, 2018)
Satin has been a partner with Lubin & Meyer since 2004. He is admitted to practice law in Massachusetts and Rhode Island.
He has been listed by Massachusetts Super Lawyers annually since 2012, having previously received Massachusetts Rising Stars recognition from Super Lawyers from 2005–2011 as published in Boston Magazine. He has also been selected for inclusion in New England's Best Lawyers® and The Best Lawyers in America® each year since 2012.
Return to Medical Malpractice Lawyer News index