Delayed Delivery Twins: $1.75 Million Settlement
2019 Medical Malpractice Trial Report
By Attorney Krysia J. Syska
Hampshire Superior Court

Birth injury lawsuit involves failure to timely deliver twins after demise of monochorionic triplet resulting in brain damage and death
This medical malpractice and wrongful death case was filed on behalf of the plaintiff who had been pregnant with monochorionic, triamniotic triplets. On 3/14/11, fetal testing of each baby was reassuring. Operative delivery was scheduled for 3/31/14 due to growth restriction of triplet A.
At 4:00 a.m. on 3/15/11, plaintiff experienced abdominal pain and was admitted to the hospital. No rupture of membranes or bleeding but she was thrashing in bed with pain. She was examined by the defendants, a fetal monitor was applied and pain medications were given. According to plaintiff's expert obstetrician, as of 7:00 a.m. the fetal heart rate of one of the triplets showed significant changes requiring delivery. No delivery was scheduled.
---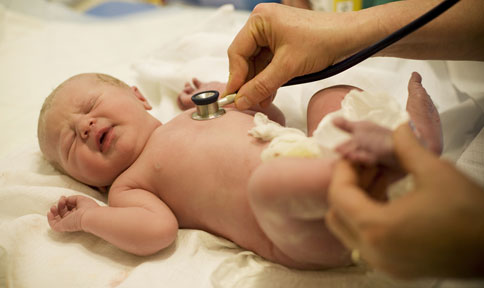 Learn more about:
Boston's Birth Injury Law Firm
Read about other significant birth injury verdicts and settlements and how our medical malpractice lawyers may be able to help you.

Other recent birth injury settlements:
Death of 3-day-old from Birth Injury: $1M Settlement

Cerebral Palsy Lawsuit Settles for $4 Million
Also see our Patient Safety Blog posts:
Mother's Dying in Childbirth — A Preventable Tragedy
$35.4 Million Verdict in Mother's Childbirth Stroke Case Upheld on Appeal

---
An ultrasound shortly thereafter noted the demise of triplet A due to a placental abruption. Monochorionic triplets share a single placenta. Vascular anastomoses connect the fetal circulations, and triplets are at risk for triplet-to-triplet transfusion (TTS). Should one of the triplets die, the remaining triplets are at risk of suffering blood loss to the deceased triplet, resulting in hypoperfusion to the two live triplets. If there is a placental abruption in a monochorionic placenta, each triplet can be affected. Standard of care requires an emergent delivery be performed to prevent damage to the remaining babies. The defendants were negligent when they failed to perform an emergent delivery after recognizing the death of triplet A. Inexplicably this did not occur. At 11:21 a.m. a bradycardic fetal heart rate was noted for one baby. Again a placental abruption was suspected but no delivery was performed.
At 2:20 p.m., the plaintiff was finally transferred to the OR due to non-reassuring fetal tracings. The surviving babies were delivered at 3:08 p.m. and transferred to the NICU.
Autopsy of triplet A raised the possibility of TTS. The surviving twins were both diagnosed with cerebral palsy and hypoxic ischemic encephalopathy and ultimately Baby B passed away due to her injuries. Baby C survived with significant disabilities and requires assistance with all aspects of daily life.
The case was scheduled for trial in January 2019 and settlement was reached in the month prior.
Lubin & Meyer represented the plaintiff in this lawsuit. (Andrew C. Meyer, Jr. and Krysia J. Syska)
---
Questions about birth related injuries?
Do you have questions about a possible medical malpractice lawsuit involving a birth related injury of mother or baby sustained before, during or after delivery in MA, NH or RI?
Contact Us - There is no fee or cost to you to have your case evaluated by our qualified medical malpractice attorneys. Call 800-866-2889 to speak with an attorney today.
Lubin & Meyer PC - Boston's Innovative Leader in Medical Malpractice and Personal Injury Law
Our medical malpractice lawyers are licensed to practice in: Massachusetts, New Hampshire and Rhode Island.
---
Return to: Verdicts & Settlements archive
Return to: Lubin & Meyer home page