Cardiac Ablation Error: $4 Million Settlement
2022 Medical Malpractice Settlement
By Adam R. Satin
Suffolk County Superior Court
Boston, Massachusetts
Lawsuit claims negligent mapping of cardiac ablation sites results in severe pulmonary vein stenosis and chronic shortness of breath in 54-year-old man

Case background
The plaintiff was a 54-year old man with a history of an irregular heart rhythm called atrial fibrillation. He underwent cardiac ablation for treatment of his condition. Cardiac ablation is a procedure in which catheters are inserted through a vein up into the heart. Multiple tools are utilized to localize the appropriate anatomy and target areas for ablation. Low energy is then delivered through the catheters to a targeted area outside the pulmonary veins (never deep within the pulmonary veins) to create a block so that electrical impulses originating from within the veins cannot propagate to the rest of the atrium and cause atrial fibrillation. Despite the first attempt at ablation, the plaintiff's atrial fibrillation returned.
Second cardiac ablation procedure
The plaintiff therefore underwent a repeat cardiac ablation on April 21, 2016. Following the plaintiff's second ablation procedure, the plaintiff noted significant, progressive, and worsening difficulty breathing with minimal activity / shortness of breath, dizziness, and lightheadedness. A CT scan was performed that showed findings of pulmonary vein stenosis with severe stenosis on the right upper and left pulmonary veins. Plaintiff required a stenting procedure to try to improve his symptoms, but significant respiratory symptoms continued despite the stents. The plaintiff was not able to lead the active lifestyle he had previously enjoyed.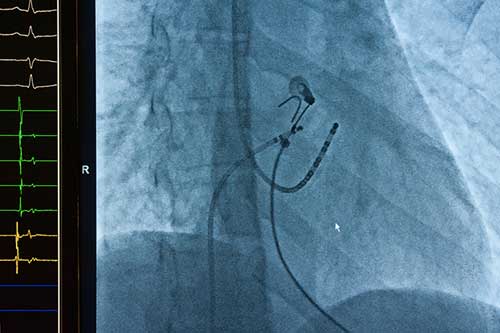 Lawsuit claims substandard cardiac mapping was negligence
Plaintiff's counsel obtained the mapping data from the 4/21/16 cardiac ablation and was prepared to present expert testimony that the defendant electrophysiologist who performed the procedure failed to appropriately identify targeted sites for ablation and negligently ablated deep into the pulmonary veins, resulting in severe pulmonary vein stenosis in all 4 pulmonary veins.
The defense was expected to claim that pulmonary vein stenosis is a known risk of the procedure, but plaintiff's counsel was prepared to counter this claim by citing the rare nature of all 4 pulmonary veins being stenosed, suggesting that it was in fact the mapping by the defendant was substandard as this outcome simply does not occur in the absence of negligence.
Case settlement
The medical malpractice case settled for $4,000,000.
Lubin & Meyer attorneys Andrew C. Meyer Jr. and Adam R. Satin represented the plaintiff.
See more cardiac related medical malpractice settlements by Lubin & Meyer lawyers.
---
Questions about a cardiac care or heart attack?
If you have questions about a possible medical malpractice claim involving medical care related to a cardiac treatment or lack of treatment, please call us for a free consultation.
Contact Us - There is no fee or cost to you to have your case evaluated by our qualified medical malpractice lawyers. Call 617-720-4447 to speak with an attorney today.
Lubin & Meyer PC - Boston's Innovative Leader in Medical Malpractice and Personal Injury Law
Our medical malpractice lawyers are licensed to practice in: Massachusetts, New Hampshire and Rhode Island.
---
Return to: Verdicts & Settlements case archive