Boston's Top Lawyers
Andrew C. Meyer, Jr. featured as one of Boston's best lawyers in Boston Magazine article
Excerpt...
MEDICAL MALPRACTICE (PLAINTIFFS ATTORNEY)
Whether the battle breaks out in a court of law or the court of public opinion, the consensus go-to guy is Andrew C. Meyer, Jr. (Suffolk Law '74). Last October, Meyer, 44, came out on the winning end of a state superior court ruling upholding a lower court's $20-million verdict against two doctors from Brigham and Women's Hospital. The doctors had been found guilty of negligence in a 1986 delivery that resulted in an infant's brain damage. The judgment, worth about $32.5 million including accrued interest, is believed to be the largest of its kind in state history. Indeed, Lubin & Meyer, and 11-lawyer boutique, has scored the state's largest malpractice awards for the last three years.
---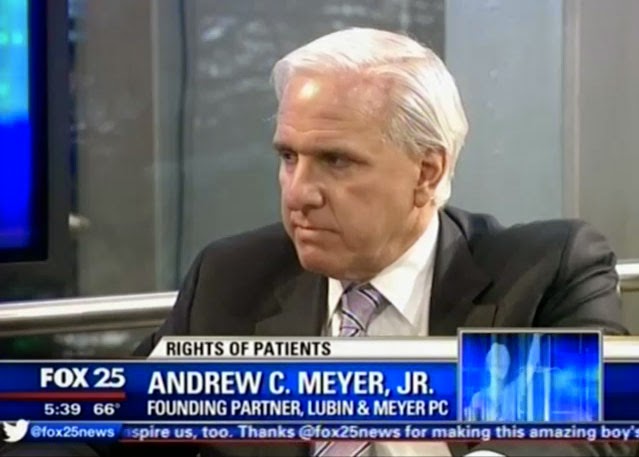 Attorney Andrew Meyer, Boston personal injury attorney and advocate for patients, is frequently asked to comment on med-mal and injury cases in the news. Shown here in a recent television interview.
Read more about: Andrew C. Meyer Jr.
---
Meyer is probably best known for his role in the 1992 case against Margaret Bean-Bayog, the Harvard psychiatrist accused of conducting a love affair with her patient, a Harvard Medical School student who later committed suicide. Thanks to Meyer's masterly, albiet controversial, manipulation of the media, Bean Bayog surrendered her license, and the student's family received a $1-million insurance settlement.
Meyer's shoot-the-wounded tactics draw the criticism and respect of his colleagues in equal measure. But he seldom gives his clients reason to doubt his loyalties. During the Brigham and Women's trial, for instance, he savaged the testimony of the defense's expert witness, Henry Klapholz, Beth Israel Hospital's chief of obstetrics—and the doctor who delivered Meyer's three children. Says Meyer: "I guess if we have any more kids, we'll just have to find a new doctor."
Boston Magazine, February 1994
---
See more recent news:
BOSTON MAGAZINE TOP LAWYERS 2022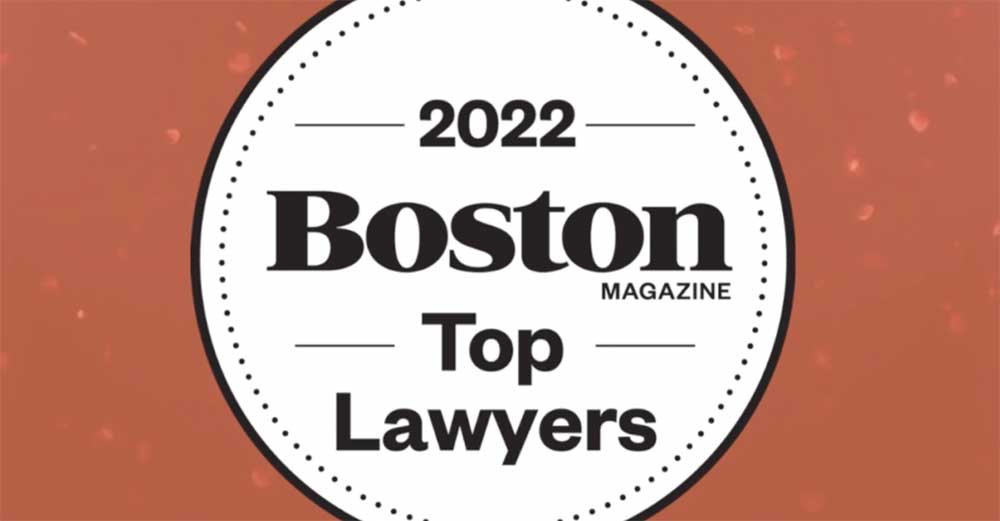 Seven at Lubin & Meyer Selected as Boston's Top Lawyers in Personal Injury Law
Boston Magazine
December 2022
With seven attorneys selected in the area of personal injury law, Lubin & Meyer is the one firm with the most attorneys recognized in that single practice area.
See all attorneys listed.
BOSTON MAGAZINE FEATURE ARTICLE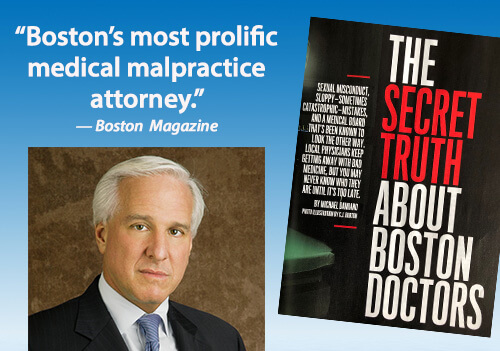 Andrew Meyer Featured in Boston Magazine Exposé, The Secret Truth About Boston Doctors
Boston Magazine
June 2019
Attorney Andrew C. Meyer, Jr. calls out Massachusetts medical system for failing to protect patients from bad doctors...
Read full news item: Who Will Save Us From Dangerous Doctors?.
Return to News index