Lubin & Meyer Achieves Four Multimillion Dollar Jury Verdicts in First Six Months of 2018
July 2018 — Boston, MA
Within the first six months of 2018, medical malpractice law firm Lubin & Meyer PC has obtained four multimillion dollar jury verdicts, including a rarely seen "gross neg­ligence" verdict, while simultaneously settling numerous $1 million+ medical malpractice and catastrophic personal injury cases — more than any other firm in the Commonwealth.

$3.2 Million Verdict for family of MGH patient for doctor's failure to inform patient of all treatment options following abnormal biopsy result. (July, 2018)
$6.8 Million Verdict for family in wrongful death case against Low­ell General doctor involving delay in diagnosis of kidney cancer. (February, 2018)
$6 Million Verdict for family of wom­an who died following hernia surgery at Winchester Hospital. (February, 2018)
$1.6 Million Verdict for patient suffering 3 years of renal failure and dialysis resulting from Dana Farber medication error. (February, 2018)
Click on a verdict amount above for more information on each trial.
Below is our recent ad in Massachusetts Lawyers Weekly.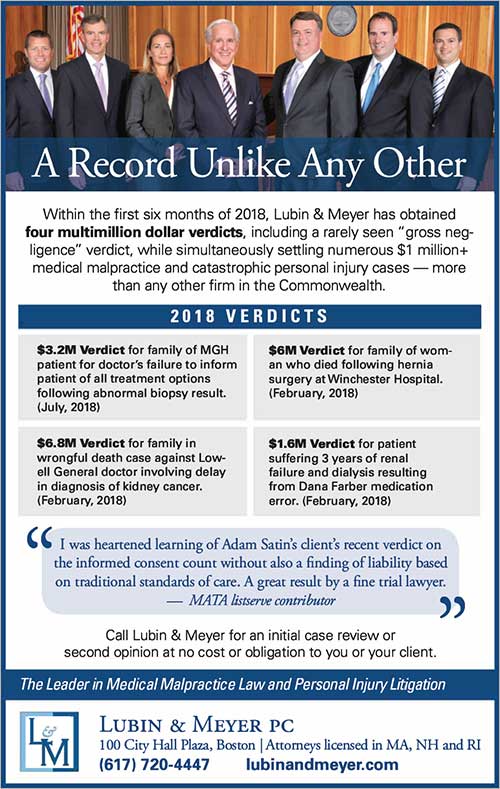 Return to News index