Super Lawyers® Honors Ten at Lubin & Meyer in Boston Magazine
Super Lawyers selection represents top 5% of attorneys in Massachusetts
October 20, 2018
BOSTON, MA— Ten medical malpractice plaintiff's lawyers at the Boston law firm of Lubin & Meyer PC, have been selected to the annual Massachusetts Super Lawyers and Rising Stars lists appearing in the November 2018 issue of Boston magazine.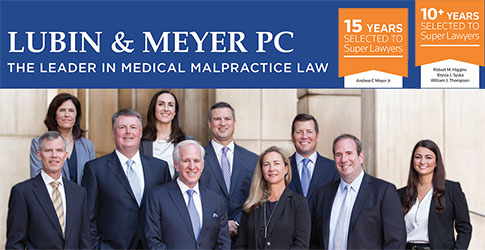 Listed by Super Lawyers® 2018 are (Front row L to R) William J. Thompson,* Robert M. Higgins,* Andrew C. Meyer, Jr.*, Krysia J. Syska,* Adam R. Satin,* Karen Zahka.** (Back row L to R) Elizabeth Cranford,** Barrie S. Duchesneau,** Nicholas D. Cappiello,* Benjamin R. Novotny.*
* = Super Lawyers listing; ** = Rising Stars listing.
---
Massachusetts Super Lawyers 2018
Lubin & Meyer attorneys have been recognized by Super Lawyers for more than a decade. Andrew Meyer has been recognized for 15 years, and Robert Higgins, Krysia Syska and William Thompson each have been selected for 10+ years. All seven of the firm's partners are honored for the fourth consecutive year, with Robert Higgins also included on the Massachusetts Top 100 list for the 12th year.
The Super Lawyers list recognizes no more than five percent of attorneys in each state. The Rising Stars list recognizes no more than 2.5 percent of attorneys in each state. To be eligible for inclusion in Rising Stars, a candidate must be either 40 years old or younger, or in practice for 10 years or less. See more on methodology here.
Lubin & Meyer Stands Alone in Medical Malpractice Law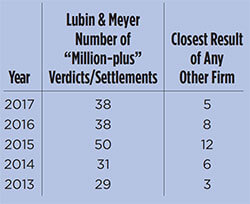 In the complex and high-stakes field of medical malpractice, one firm — Lubin & Meyer — stands alone. In the first eight months of 2018, the firm won four multimillion-dollar verdicts as well as $37.8 million appeal. Year after year, Lubin & Meyer achieves more $1 million-plus verdicts and settlements — up to nine times as many — than any other firm in the state according to Massachusetts Lawyers Weekly.
Lubin & Meyer's attorneys are recognized by clients and referring attorneys alike for their legal skills, professional integrity and personal approach.
---
"I expected the great representation in the courtroom that Lubin & Meyer is known for. I did not expect the level of compassion and understanding that I received from my lawyer."

— Client whose husband died following tonsillectomy
---
With 10 attorneys recognized on this year's Super Lawyers and Rising Stars lists, the firm maintains its position at the forefront of personal injury law, exposing dangerous practices and flawed systems; holding professionals and institutions accountable for their mistakes; and rebuilding the lives of its injured clients.
"At the end of the day," says firm founder Andrew C. Meyer, Jr., "our jobs have less to do with multimillion-dollar settlements than about giving a voice to individuals and families who have experienced needless tragedy at the hands of a medical professional."
Lubin & Meyer PC represents clients in Massachusetts, New Hampshire and Rhode Island.
---
Questions about filing a medical malpractice claim in NH, MA or RI?
Do you have questions about how to file a possible medical malpractice claim?
Contact Us - There is no fee or cost to you to have your case evaluated by our qualified medical malpractice attorneys and medical staff. Call 800-866-2889 to speak with an attorney today.
Lubin & Meyer PC - Boston's Innovative Leader in Medical Malpractice and Personal Injury Law
Our medical malpractice lawyers are licensed to practice in:
Massachusetts, New Hampshire and Rhode Island.
---
Return to News index