Seven Listed by Super Lawyers® for Medical Malpractice Law
November 15, 2014
BOSTON, MA—Seven medical malpractice plaintiff's lawyers at the Boston law firm Lubin & Meyer PC, are among the Massachusetts Super Lawyers appearing in the November 2014 issue of Boston magazine.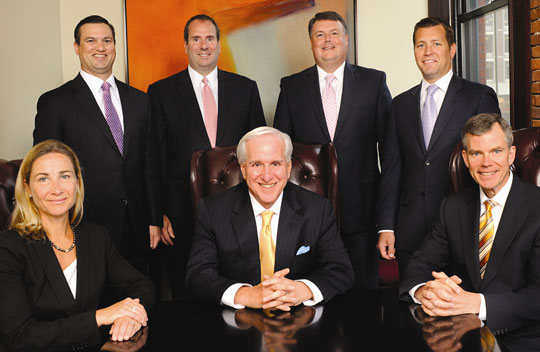 Listed by Super Lawyers® 2014 for Medical Malpractice are (seated L to R) Krysia J. Syska, Andrew C. Meyer, Jr., William J. Thompson; (standing L to R) Nicholas D. Capiello*, Adam R. Satin, Robert M. Higgins, Benjamin R. Novotny*.
Meyer and Higgins are selected for additional distinction by the Top 100 Massachusetts Super Lawyers list.
Protecting Patients and Creating Accountability
Widely known as the most successful medical malpractice law firm in Massachusetts, Lubin & Meyer continues to secure the largest verdicts and settlements for injured patients while bringing about lifesaving changes to the practice of medicine.
In just the last 12 months, Lubin & Meyer secured four of the five largest verdicts, while leading the state in achieving the greatest number of "million-plus" settlements.
Further setting itself apart from other malpractice firms, Lubin & Meyer's efforts have increased patient safety in Massachusetts and beyond. Recent cases have brought government and media attention to deadly restraint practices at a state hospital, prompted the FDA's potential ban of aversive shock therapy treatment and exposed the deadly consequences of hospitals switching to electronic record systems without adequate and proper preparation.
Founding partner Andrew C. Meyer, Jr. states, "We are proud to be the kind of lawyers who not only ensure accountability for harm caused, but who bring about positive change that saves the lives of others.
About Super Lawyers
Super Lawyers is a rating service of outstanding lawyers from more than 70 practice areas who have attained a high-degree of peer recognition and professional achievement. The selection process includes independent research, peer nominations and peer evaluations. The Super Lawyers list represents the top 5 percent of attorneys in Massachusetts.
To be eligible for inclusion in Rising Stars, a candidate must be either 40 years old or younger or in practice for 10 years or less. No more than 2.5 percent of the lawyers in a state are named to Rising Stars.
* Named to Super Lawyers Rising Stars list.
---
Questions about filing a
medical malpractice claim in NH, MA or RI?
Do you have questions about how to file a possible medical malpractice claim?
Contact Us - There is no fee or cost to you to have your case evaluated by our qualified medical malpractice attorneys and medical staff. Call 800-866-2889 to speak with an attorney today.
Lubin & Meyer PC - Boston's Innovative Leader in Medical Malpractice and Personal Injury Law
Our medical malpractice lawyers are licensed to practice in:
Massachusetts, New Hampshire and Rhode Island.
---
Return to News index