Seven at Lubin & Meyer Named Super Lawyers® for Medical Malpractice Law
November 9, 2010
BOSTON, MA—Seven medical malpractice plaintiff's lawyers at the law firm Lubin & Meyer PC, are among the Massachusetts Super Lawyers for 2010 appearing in Boston magazine in the areas of medical malpractice plaintiffs law. Two attorneys, Andrew C. Meyer, Jr. and Robert M. Higgins are also selected among the Top 100 New England Super Lawyers. The firm's Super Lawyer profile is reprinted below.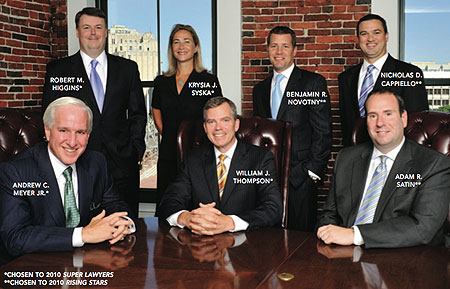 Making A Difference Today. Impacting Health Care Tomorrow.
A medical malpractice verdict or settlement can help victims and their families care for loved ones and, hopefully, move forward with their lives. These results can also have more far-reaching implications. Lubin & Meyer's trial lawyers, all of whom are on the New England Super Lawyers® list or the Rising Stars list, have witnessed the changes in medicine that settlements and verdicts can bring. Indeed, they've made them happen.
Under the guidance of founding partner Andrew C. Meyer, Jr.*, known for securing policy-changing, multimillion-dollar verdicts and settlements, the firm strives to improve the practice of medicine. Its record-setting verdicts and settlements achieve maximum compensation for clients and lead to strengthened hospital quality assurance programs and the redesign of flawed systems.
Robert Higgins,* having achieved numerous million-dollar settlements and verdicts, including the largest personal injury award in the Commonwealth, has been instrumental in raising the bar on health care performance, resulting in improved reliability and care.
William Thompson* secured the year's largest medical malpractice settlement—$6 million for a medication error that left a newborn with severe neurological and physical impairments. Consequently, the hospital improved its systems to maximize patient safety when administering medicine.
Krysia J. Syska's* multimillion-dollar case against an ophthalmologist with ties to major teaching facilities resulted in both the physician's admission of medical error and changes to the teaching curriculum for hospital residents and fellows.
Adam Satin* successfully influenced the medical system by garnering the defendants' commitment in a pediatric cardiology case to discuss in future lectures how the case impacted their practice. The goal: Protect other patients from suffering medical errors.
Nicholas Cappiello's** numerous and lucrative settlements for the victims of pharmacy error prompted changes in quality assurance programs. Benjamin Novotny,** who secured the year's first multimillion-dollar verdict in the Commonwealth, represents the estate of a toddler diagnosed with bipolar disorder at age 2. The case has raised national attention regarding the over-prescribing of antipsychotic drugs to children.
"While no amount of money can truly compensate individuals for their loss, it can help them start the healing process," Meyer says. "Litigation can also illuminate some of the dangers that exist in the health care world. It's our goal—indeed we feel a sense of responsibility—to help change the practice of medicine so no one else has to suffer the way our clients have suffered."
About Super Lawyers
The Super Lawyers distinction is based on a peer balloting process involving attorneys from across Massachusetts and conducted by a research and review panel. Each year, over 37,000 ballots are sent to lawyers statewide. The Super Lawyers list represents the top 5 percent of attorneys in Massachusetts.
* Named Super Lawyers 2010.
** Named Super Lawyer Rising Stars 2010.
Attorneys licensed in Massachusetts, New Hampshire and Rhode Island.
---
Questions about filing a
medical malpractice claim in NH, MA or RI?
Do you have questions about how to file a possible medical malpractice claim?
Contact Us - There is no fee or cost to you to have your case evaluated by our qualified medical malpractice attorneys and medical staff. Call 800-866-2889 to speak with an attorney today.
Lubin & Meyer PC - Boston's Innovative Leader in Medical Malpractice and Personal Injury Law
Our medical malpractice lawyers are licensed to practice in:
Massachusetts, New Hampshire and Rhode Island.
---
Return to News index