Top Women Attorneys in Medical Malpractice Law
Four at Lubin & Meyer Featured in Massachusetts Super Lawyers Top Women Edition 2021
Super Lawyers Top Women Attorneys, May 2021
As Boston's most successful medical malpractice law firm, Lubin & Meyer is honored to have as members of its team the Top Women Attorneys in Medical Malpractice Law who are key to the firm's consistent record of obtaining more multimillion-dollar verdicts and settlements than any other law firm in the Commonwealth.
Massachusetts Super Lawyers Top Women Edition
Named to the "Annual List of Top Women Attorneys, Massachusetts 2021" published by Super Lawyers are:
Krysia J. Syska - 2008-2020 Super Lawyers Honoree, 2011 Top 50 Women, and 2005-2007 Rising Stars Honoree
Elizabeth R. Cranford - 2018-2020 Super Lawyers Honoree
Barrie S. Duchesneau - 2019-2020 Super Lawyers Honoree and 2015-2018 Rising Stars Honoree
Julie A. Gielowski - 2019-2020 Rising Stars Honoree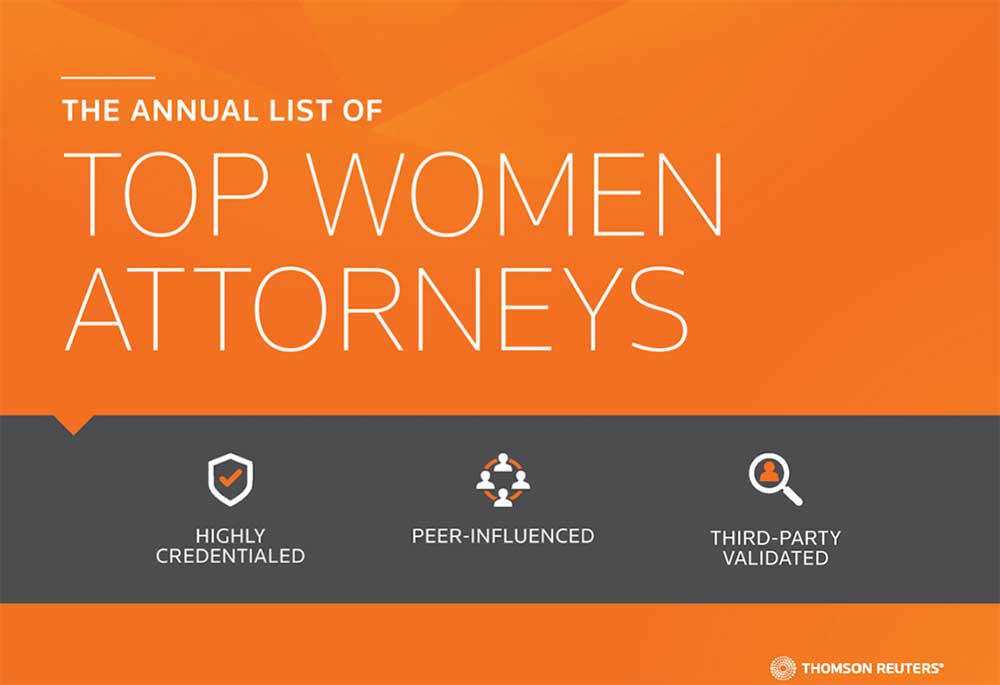 Lubin & Meyer founding partner Andrew C. Meyer Jr. says, "We realize the critical role each of our talented lawyers plays in seeking accountability and appropriate compensation for our many clients who have suffered life-altering injuries as the result of a flawed and often dangerous medical system."
"We are proud of all of our dedicated attorneys, committed to improving the lives of injured patients and the health care system that serves us all, including these four women honored by Super Lawyers Magazine in its most recent listing."
About Lubin & Meyer
Lubin & Meyer is recognized nationally as one of the country's leading medical malpractice and catastrophic personal injury law firms. Located in Boston, Lubin & Meyer represents individuals and families in Massachusetts, New Hampshire and Rhode Island. A perennial powerhouse, the firm continues to demonstrate its standing as the premier medical malpractice law firm in Massachusetts, having achieving more million-dollar-plus verdicts and settlements than any other firm in the Commonwealth.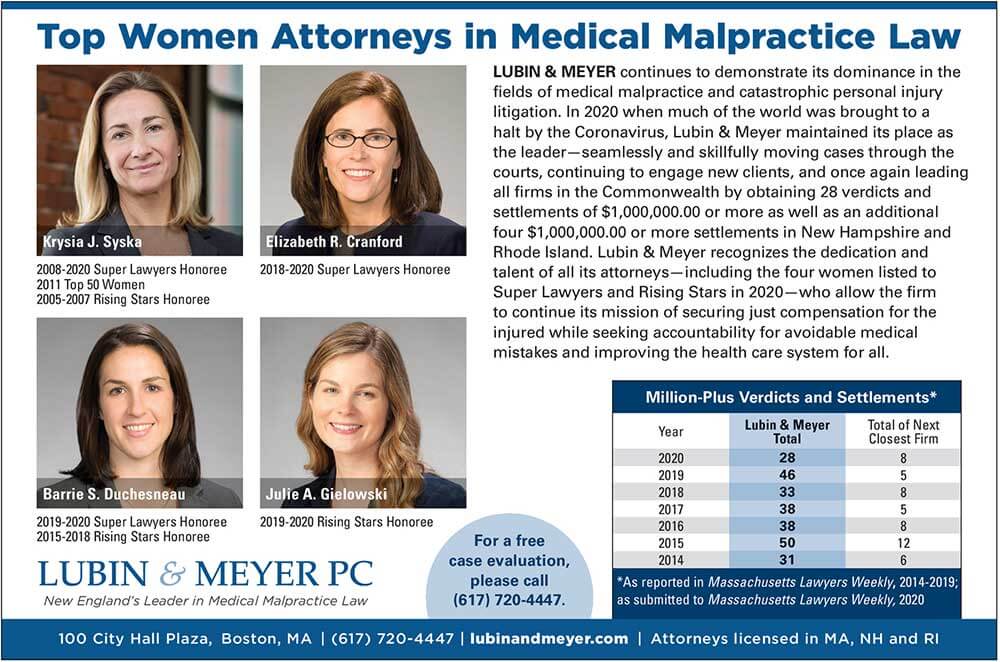 About Super Lawyers
Those selected to the annual Massachusetts Super Lawyers list represent only 5% of practicing attorneys, and those selected to Rising Stars represent only 2.5% of practicing attorneys. Super Lawyers rates outstanding lawyers from more than 70 practice areas who have attained a high-degree of peer recognition and professional achievement, using a selection process of independent research, peer nominations and peer evaluations. Selections are made on an annual, state-by-state basis in order to create a credible, comprehensive and diverse listing of outstanding attorneys that can be used as a resource for attorneys and consumers searching for legal counsel.
---
Questions about a possible medical malpractice claim in MA, NH or RI?
Lubin & Meyer attorneys are available to answer your questions surrounding your medical care.
Contact Us - There is no fee or cost to you to have your case evaluated by our qualified medical malpractice attorneys and medical staff. Call (617) 720-4447 to speak with an attorney today.
Lubin & Meyer PC - Boston's Innovative Leader in Medical Malpractice and Personal Injury Law
Our medical malpractice lawyers are licensed to practice in:
Massachusetts, New Hampshire and Rhode Island.
---
Return to News index