Krysia Syska Featured in Top Women Attorneys Massachusetts
Super Lawyers and Boston Magazine, April 2014
COMPENSATING INJURED PATIENTS. REBUILDING LIVES.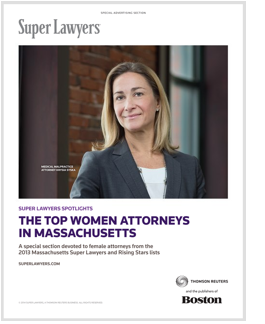 Medical malpractice attorney Krysia Syska empathizes with her clients, most of whom are struggling to recover from a life-altering medical event—a wife suffering a misdiagnosis of cancer; a baby with catastrophic neurological damage from a birth injury. "Sadly, my clients' lives are inextricably changed by their medical injury," she says. "My role extends well beyond the courtroom."
In addition to obtaining the maximum compensation for her clients (many of her settlements are the largest in the Commonwealth), Syska aids in the rebuilding of lives by connecting her clients to a network of professionals she helped to establish: home designers, life-care planners, trust specialists, support groups and respite centers.
The impact of Syska's work on behalf of her clients extends well into the community as her cases have resulted in lifesaving changes to the way medicine is practiced, thereby increasing patient safety for all.
"My clients are wives, mothers, sisters and daughters, all with families just like mine," Syska says. "It would be impossible to remain completely detached from their life circumstances. Their tragedy could be my tragedy. Appreciating what my clients have been through makes me a better advocate."
Attorney Syska's recognitions include:
Martindale-Hubbell's highest peer-review rating for ethical standards and legal ability
Massachusetts Super Lawyers 2008 - 2013
Massachusetts Super Lawyers Top Women Attorneys 2013, 2014
Massachusetts Super Lawyers Top 50 Women 2011
Massachusetts Super Lawyers: Rising Stars 2005-2007
The Best Lawyers in America®, 2012 - 2014
---
Questions about filing a
medical malpractice claim in NH, MA or RI?
Do you have questions surrounding your child's birth injuries, or your diagnosis of breast cancer or other cancer?
Contact Us - There is no fee or cost to you to have your case evaluated by our qualified medical malpractice attorneys and medical staff. Call 800-866-2889 to speak with an attorney today.
Lubin & Meyer PC - Boston's Innovative Leader in Medical Malpractice and Personal Injury Law
Our medical malpractice lawyers are licensed to practice in:
Massachusetts, New Hampshire and Rhode Island.
---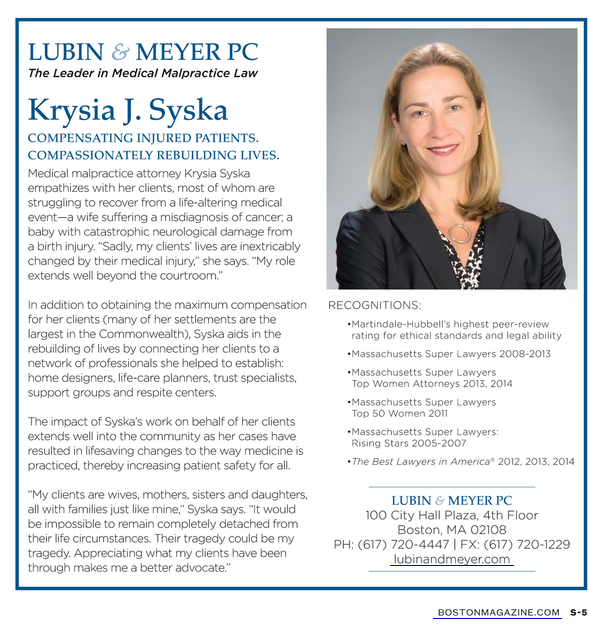 Return to News index