Andrew C. Meyer, Jr.
Discussing Lubin & Meyer's Record of Success in
Medical Malpractice and Personal Injury Law
From New England's Best Lawyers
June 29, 2012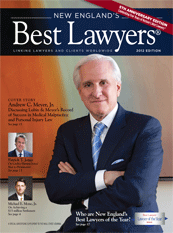 As one of the country's leading medical malpractice and personal injury law firms, Lubin & Meyer has secured more than $600 million in verdicts and settlements on behalf of its clients in the past ten years alone. Founding partner Andrew C. Meyer, Jr.—Best Lawyers® 2011 Lawyer of the Year in Boston for medical malpractice—notes: "Our firm has been fortunate to appear year after year in the
top ten verdicts and settlements in Massachusetts, eclipsing almost every other firm in regard to the amount and size of the verdicts and settlements returned."
Indeed, Lubin & Meyer has achieved some of the largest medical malpractice and personal injury verdicts in state history, including a record breaking verdict of $40 million. This past year, the firm attained the largest medical malpractice verdict in Massachusetts—$11.5 million in a wrongful death trial involving an eight-day-old twin who was born prematurely and died due to medical negligence. Also in 2011, the firm won the largest personal injury verdict in New Hampshire, securing an $8.5 million verdict against a trucking company on behalf of the family of a cyclist who was killed when he was run over by a tractor-trailer.
Lubin & Meyer's Team Approach
Meyer credits his firm's success in these cases to its team approach, where the firm's in-house medical staff and principal attorneys work together to provide the highest quality of legal service.
"We have a wide variety of people in our office who have a range of expertise," Meyer says. "By contributing their skills, they have allowed us to achieve the great success that we've become known for."
In addition to experienced lawyers, nurses, and physicians, the firm's staff includes medical records and administrative personnel, computer programmers, an economist, and a quality control manager. The firm also consults with experts from Boston's leading hospitals, medical institutions, universities, and businesses.
Through this collaboration, Lubin & Meyer has become known as the leader in medical malpractice and personal injury law. Many of Lubin & Meyer's attorneys have been recognized by their peers for their legal ability, including the firm's five partners who were selected for inclusion in the 2012 edition of The Best Lawyers in America®: Robert M. Higgins, Andrew C. Meyer, Jr., Adam R. Satin, Krysia J. Syska, and William J. Thompson. The firm as a whole, meanwhile, was ranked as Tier 1 in Boston for plaintiffs' medical malpractice law and personal injury litigation by U.S. News & World Report—Best Lawyers "Best Law Firms."
A Pioneer in the Courtroom; A Tireless Patient Advocate
To maintain its reputation as a pioneer in the courtroom, Lubin & Meyer constantly refines its trial techniques through the use of mock trials, computer simulations, and other persuasive communication methods. Meyer says,
"Trying cases is an art and we are consistently honing our skills at that art because our strategies have to be consistent with the times that we live in. It isn't just a matter of putting in evidence; one needs to be sensitive to the orderly presentation of evidence in order to effectively communicate a client's case to the jury."
Meyer has been at the forefront of the medical malpractice and personal injury fields since founding the firm in the mid-1970s. He started out in the products liability arena, fighting for individuals who had been injured by faulty or defective products. During that time, he noticed that there were few effective methods for monitoring medical care in Massachusetts.
"We were one of the first firms to expose that medical practitioners make mistakes and to take a stand on behalf of consumers," Meyer says. "We started working toward changing the systems within hospitals and doctors' offices to provide better patient care."
By advocating for a better standard of care, the firm exposed the lack of quality treatment in a number of institutions and helped to create a safer environment in many hospitals.
"On behalf of our clients we have ensured that whatever loss that occurred in their family has not gone without some corrective measure being taken in the hospital environment or doctor's office to prevent similar harm from happening to others."
While Lubin & Meyer has established an impressive track record of success, Meyer says that the most gratifying aspect of his work remains in assisting the public.
"It's very rewarding to be able to bring some solace and comfort to those who seek our representation while also protecting others by changing the system. Ultimately, our work has benefited both the medical profession and society as a whole by improving patient and public safety."
See related information: Making A Difference
Return to Medical Malpractice Lawyer News index