Seven at Lubin & Meyer Listed by Super Lawyers® for Medical Malpractice Law
October 30, 2013
BOSTON, MA—Seven medical malpractice plaintiff's lawyers at the Boston law firm Lubin & Meyer PC, are among the Massachusetts Super Lawyers appearing in the November 2013 issue of Boston magazine for Medical Malpractice Law.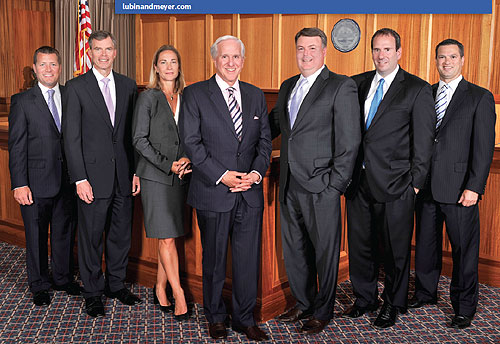 Listed by Super Lawyers® 2013 for Medical Malpractice are (L to R): Benjamin R. Novotny**, William J. Thompson*, Krysia J. Syska*, Andrew C. Meyer, Jr.*, Robert M. Higgins*, Adam R. Satin*, Nicholas D. Capiello**.
* Listed Super Lawyers® 2013.
** Listed Super Lawyer Rising Stars® 2013.
Meyer and Higgins are selected for additional distinction by the Top 100 Massachusetts Super Lawyers list.
Safeguarding Every Patient's Right to Quality Medical Care
Recognized as Massachusetts' most successful medical malpractice law firm,
Lubin & Meyer is committed to reducing the medical risks faced by patients. With a team of attorneys and medical professionals regarded as the best in their fields, the firm's work has brought about necessary and lifesaving changes in many major hospitals.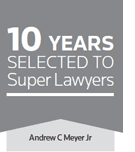 "What sets us apart is what we're able to accomplish for our clients," says the firm's founder, Andrew C Meyer Jr. "We provide the accountability our clients search for, the compensation they deserve, and the assurance that the medical error they suffered will not be swept under the rug. Our work is changing the practice of medicine and, from that, everyone benefits."
Founded in 1974, Lubin & Meyer is known across the country as an innovative leader in medical malpractice personal injury law and for its commitment to quality and excellence in the preparation and trial of suits on behalf of injured victims. Today, a multidisciplinary team of 12 lawyers, 4 nurses, paralegals and assistants comprise Lubin & Meyer. Attorneys are licensed to practice in Massachusetts, New Hampshire and Rhode Island.
About Super Lawyers
The Super Lawyers distinction is based on a peer balloting process involving attorneys from across Massachusetts and conducted by a research and review panel. Each year, over 37,000 ballots are sent to lawyers statewide. The Super Lawyers list represents the top 5 percent of attorneys in Massachusetts.
---
Questions about filing a
medical malpractice claim in NH, MA or RI?
Do you have questions about how to file a possible medical malpractice claim?
Contact Us - There is no fee or cost to you to have your case evaluated by our qualified medical malpractice attorneys and medical staff. Call 800-866-2889 to speak with an attorney today.
Lubin & Meyer PC - Boston's Innovative Leader in Medical Malpractice and Personal Injury Law
Our medical malpractice lawyers are licensed to practice in:
Massachusetts, New Hampshire and Rhode Island.
---
Return to News index